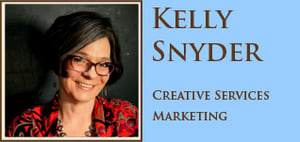 We love when fall season is in full bloom and what better way to celebrate than with our favorite flowers autumn has to offer! From the golden glow of sunflowers to the colorful selection of chrysanthemums; we have a plethora of fall flora!
We'll begin this list with a burst of the biggest blooms heralding the entrance of fall: the sunflower.

Sunflowers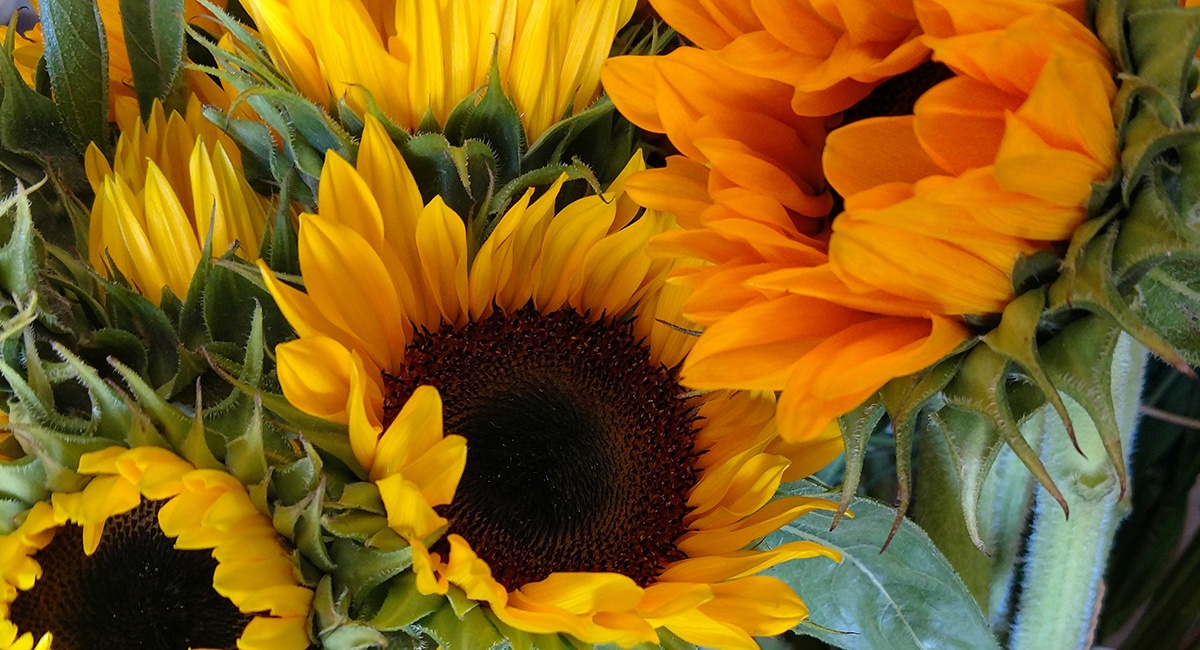 Sunflower is the top flower which comes to my mind when thinking of the beginning of fall season. Harvested in the late summer/early fall, there are many uses for this beautiful bloom including delicious seeds, cooking oil, and fall decorations of course! The friendly color of sunflowers go hand in hand with what they symbolize: Loyalty, friendship, strength and adoration. Their sentimentality will brighten someones day whether it be friend, family and/or loved ones. We incorporate sunflowers in bouquets, fall decor, wedding florals and more! You can find these golden beauties in many of our favorite fall arrangements. Find a great selection here.


Chrysanthemum (Fall Mums)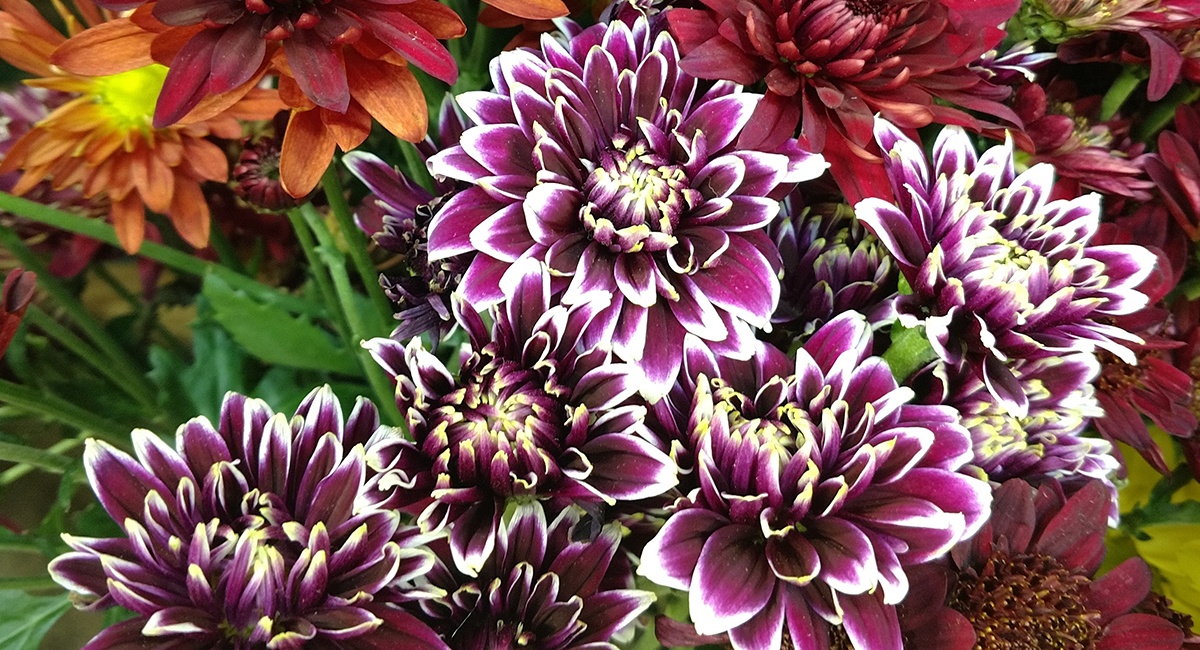 Pictured above is a cushion mum in a colorful blend of burgundy and white. Mums, much like sunflowers, are a staple for our fall floral selection. These hardy, long lasting flowers are available in traditional autumn colors such as crimson, golden yellow, lavender, violet and white. Known as the "Queen of Fall Flowers", the chrysanthemum is the birth month flower of November and considered the official city flower of Chicago.
We love how these flowers can be enjoyed outdoors in the garden or incorporated in bouquets for any occasion. During early fall season we carry a large selection of mums available at our store and for delivery. Learn more about mums and how to care for them here.
Fall Daisy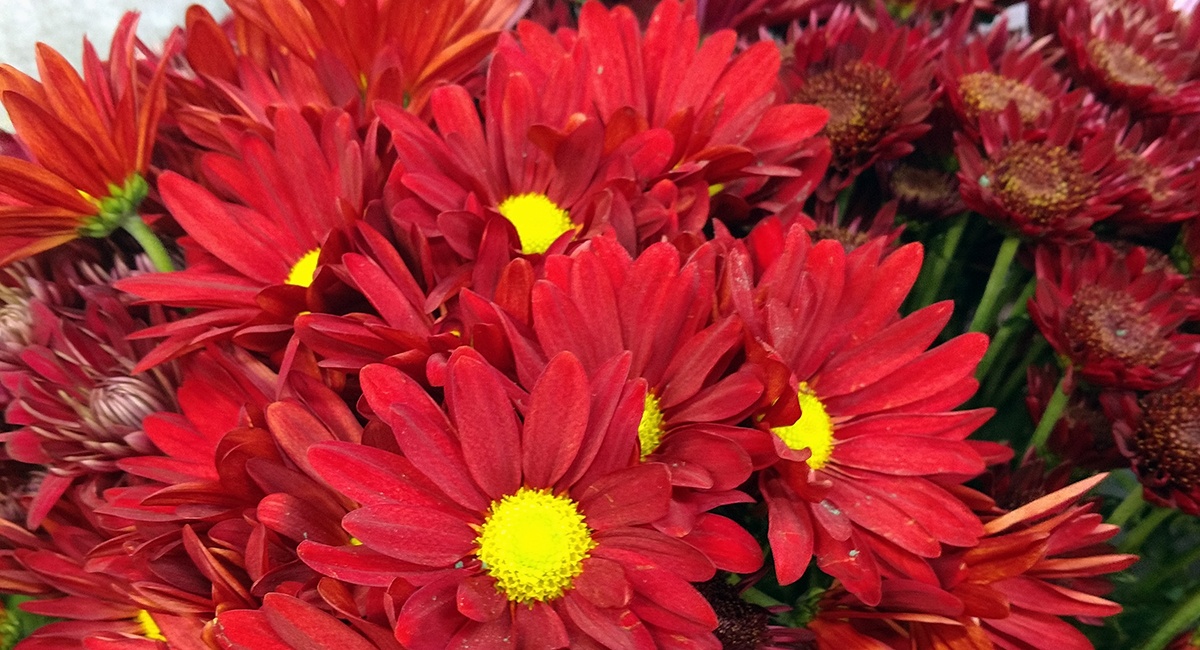 We call them fall daisies but they are actually a part of the Chrysanthemum family. Daisy chrysanthemums are a type of garden mum that you often find in our Fall and Thanksgiving arrangements. We love the pop of color and fullness they add to any bouquet. Daisy mum colors include white, yellow, red, purple, pink and orange.
Asiatic Lily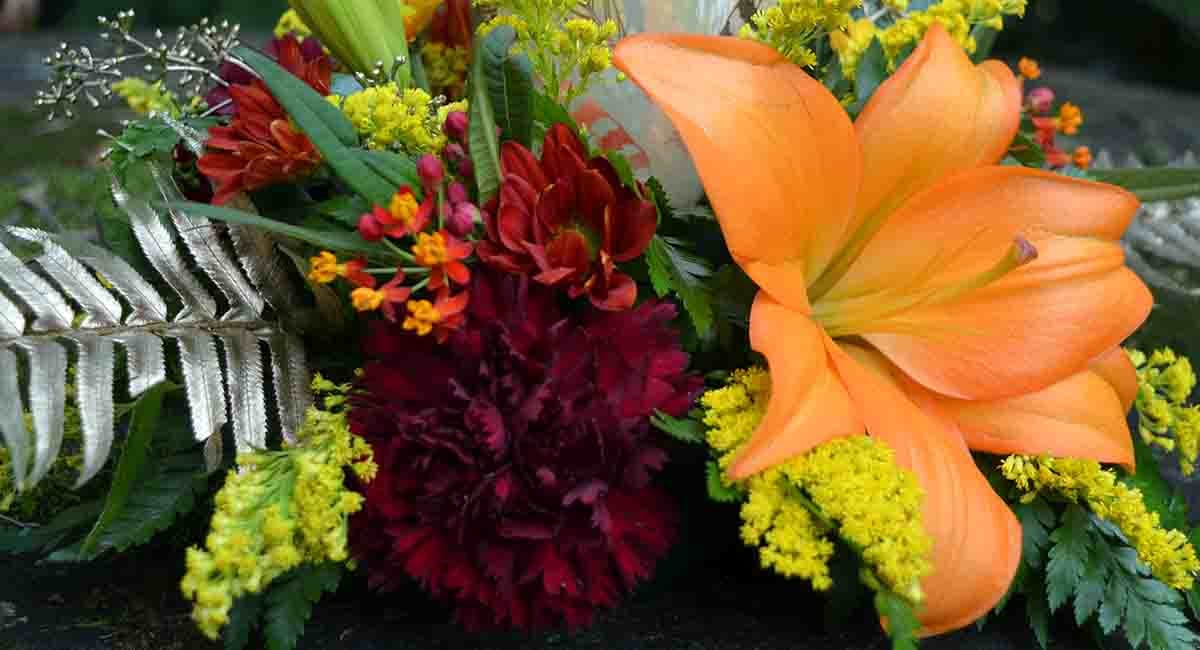 Adding drama and elegance to the fall floral lineup is the Asiatic lily. Originally native to Asia and Europe these lilies are now grown around the globe. Asiatic lilies gorgeous blooms are available in many colors however their warm colors such as red, orange and yellow represent energy, creativity, drive and passion. As beautiful as lilies are it's important to note that most varieties of lilies are toxic to cats. If you're planning on incorporating lilies into your next fall arrangement or sending to loved ones remember to consider the recipient's furbabies!

Alstroemeria Lily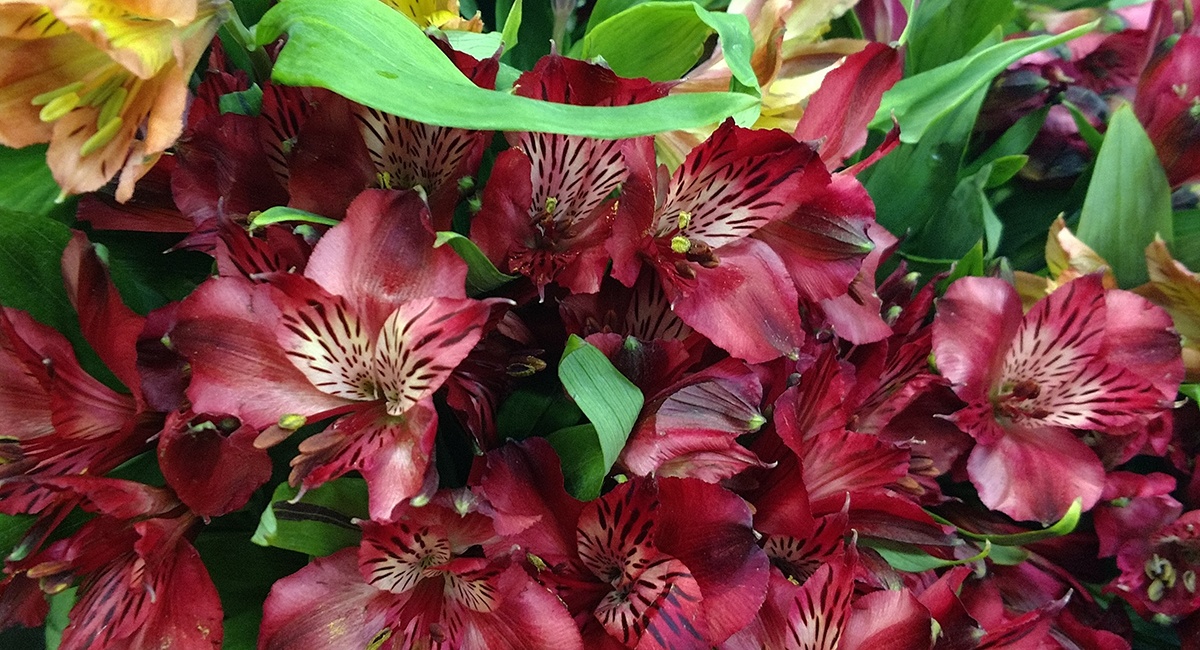 Peruvian Lily, also known as Alstroemeria lily, are known for their vibrant colors, versatility and low maintenance style. Trumpet shaped like lilies, alstroemeria sports brown freckles in their blooms and exotic appeal. Their meaning and symbolization often connect around friendship, love, strength and devotion. You can find many of their most popular colors in our 500 sq ft cooler on any given day.


Carnation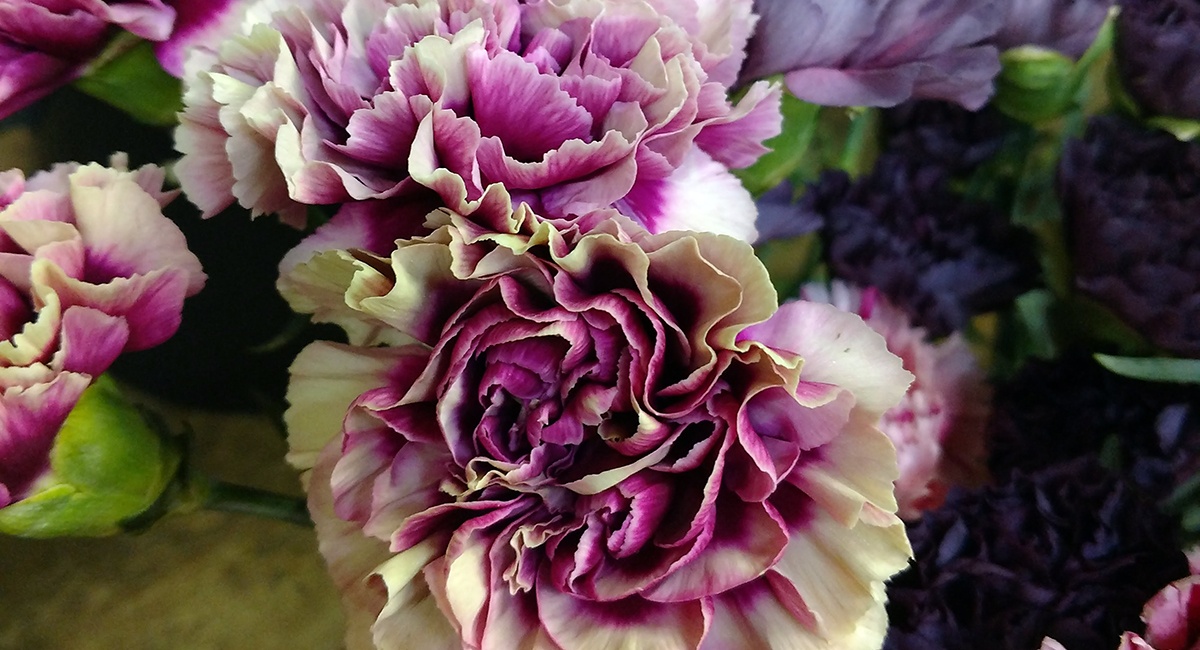 Carnations are popular for all seasons! These floral chameleons of color have rich shades of burgundy, peach, red and lavender. Pictured above is an example of a more recent addition to our carnation collection in the cooler: The Moon Series. Moon Series carnations feature beautiful blended colors such as Lavender Carnation Moonlight, Dark Purple, Moon Series Purple and lavender. These stunning colors give Fall Halloween arrangements a dash of dark romance and flair.
Carnations, fall daisies, asiatic lilies, alstroemeria and sunflowers are a few of our favorite fall flowers but there's always more you can find in our store at 9255 W 10th St, Indianapolis IN and online here.
See some of our favorite fall flowers in action below!