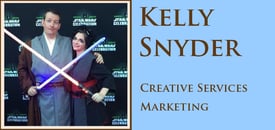 Birthdays, Christmas, Father's Day...these are the days which can be excruciatingly difficult for those of us who are clueless on the perfect gift for "him". You know who I'm talking about....that important guy or guys in your life.
The only guy in my life I don't have to melt my brain creatively in the gift department is my dad. Without fail, he is most delighted with sweaters and sweatshirts. He loves receiving these from me to the point where someone compliments him on any sweater, he will say "Kelly bought it for me" when in fact, it's possible one of my other siblings did. After a few incidents they have left the sweater purchasing to me. Gifts for my dad? Done and Done. Everyone else? Oh, the agony. But never fear, I've compiled a list of gift ideas to make your next gift for him a little bit easier!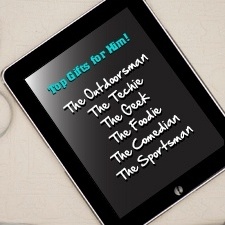 1. SOMETHING FOR EVERYONE
Finding the right gift can be hard to find and if you google "gifts for him" your search is far from over! Is your gift for the great outdoorsman? Sports enthusiast? Geek? So many searches, so little time therefore let's start with a winning list with something for everyone! Dads, brothers, husbands and friends. I love Heavy.com's Top 100 Best Gifts for Men because it's there's a great range in price, lifestyle, age. After scanning the list I was surprised to find quite a few items that I would purchase for the guys in my life! My top three items were the The Official John Wayne Way to Grill (for the foodie); Pyle SoundBox Splash Waterproof Portable Speaker (for the music lover); and the Vivere Double Space Hammock (for the outdoorsman). Great variety and price points for a variety of lifestyles all in one list. BOOM. DONE.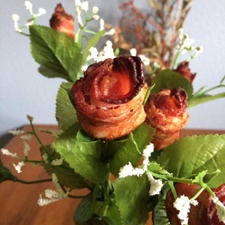 2. DIY GIFTS
Let's say DIY is your style! I know it's mine and the very first thing I do is look at my favorite pinterest boards. Sometimes going to the place with a billion pins is overwhelming therefore take a short cut to theartofmanliness.com. The Art of Manliness list of DIY projects is overflowing with great ideas which you can DIY or give to him as a gift to do! I especially love the altoid tin survival kits and all the ways you can personalize it and the best beef jerky in the world because...beef jerky and I want to make it for myself post-haste!
3. FROM THE KIDS
My three kiddos always want to take part in gifts for dad! Every once in awhile we carve out a large block of time to work on a special gift! One of our favorites is painting ceramic bowls. Breakfast time is always bonding time with dad so cereal bowls have been a big hit!
Not feeling the painting? Try one of these Kid Friendly DIY Gift Ideas from Care.com! From cute candy cards to pretty cool bicycle brake clocks there is something for everyone. I can't say my favorite on this list because it's bound to be a birthday gift pretty soon!
4. DON'T FORGET YOUR FRIENDLY LOCAL FLORIST!
Of course I'm going to mention

Gillespie Florists

! Flowers do not seem to be synonymous with gifts for him but have you seen what we can do? Planters or flowers for the home, office, and man cave in fun containers like jeeps, Ford trucks, sports balls and even grills! Snack baskets, gourment food baskets, stones for the garden. Send a "Just Because" surprise bouquet, just because. The kids can join in the fun, walk the red carpet and select flowers for the important guys in their life!
Let's bring it back home. I've shared some of my favorite "For Him" lists with you as well as ideas I've personally used! These ideas serve as starting points to get you going in the right direction for the perfect gift for him. Online, hand delivered, DIY, whatever your style; as long as the gift is thoughtful and from the heart, it is sure to be a hit with him. Happy Gifting!
---