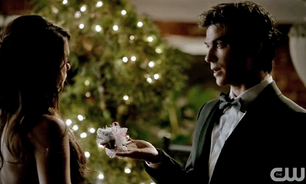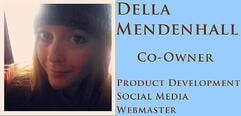 Every year I do a blog on the flowers of the Glee Prom but there is usually a prom on Glee by now. Vampire Diaries however has had a Prom this year with a great scene showing off some different Prom flower options!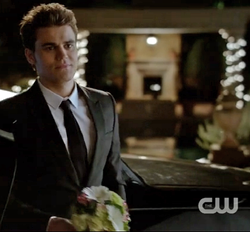 If you do not watch Vampire Diaries, let me give you the 411 on what's going on in this episode. The series follows the life of Elena, who falls in love with a 150+ year-old vampire named Stefan. Their relationship becomes increasingly complicated as Stefan's vicious older brother Damon Salvatore returns and eventually falls in love with Elena as well. The series is set in the fictional town of Mystic Falls, Virginia and includes other supernatural beings such as werewolves, witches, ghosts, and hybrids. Through a complicated series of events Elena is turned into a vampire and because of the death of her brother Jeremy, she "turns off" her emotions. In this episode, Stefan and Damon are convinced they can get Elena to turn on her emotions by taking her to Prom and reminding her of all of the good times in her life and showing her how many people still love and care about her.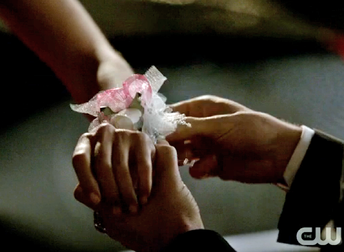 Since Stefan and Damon are over a hundred years old, it's not surprising they take part in the time-honored tradition in bringing their prom date flowers (even though they are taking the same girl). Stefan gives Elena a hand tied bouquet (a.k.a. nosegay) of gerbera daisies and green roses. Even though her emotions are turned off, she does accept the bouquet. I think that is very telling of Elena true feelings toward Stefan because when Damon tries to give Elena a white rose with pink ribbon corsage; she tries to refuse it and not wear it. Of course if you know Damon, he won't take "No" for an answer and with his super Vampire skills; he grabs Elena's wrist and straps that corsage on her like her life depends on it! Elena does show up to prom with Damon's corsage on and doesn't have Stefan's bouquet so, we could say that is very telling as well. But I'm on team Stefan so I am choosing to read more into Elena accepting the flowers from Stefan.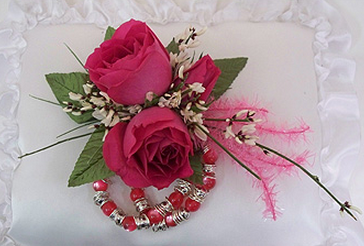 Pictured here is a three sweetheart rose corsage, that would be perfect for Elena to have worn in this episode! I don't have a picture that looks like her corsage but hers had sweetheart roses and a keepsake bracelet so, I thought this one would be a good fit. By the way, I think it is great we are seeing keepsake bracelets on television! This corsage is called Angelina and includes pink sweetheart roses, white accent flower and pink bracelet.
Later in the show I noticed the character Matt had on a single white rose boutonniere. I wonder who got that for him? The witch Bonnie? The vampire Caroline? Or did he get one for himself? I'm just glad he was wearing one because I noticed Elena didn't care enough to get her dates a boutonniere. The Focus boutonniere is similar to the one Matt is wearing with it's white rose and accent flower. I think it would have looked better on Matt because of the boutonniere holder it is in. Boutonniere holders are easier to use than pin-on ones and they have a cleaner look.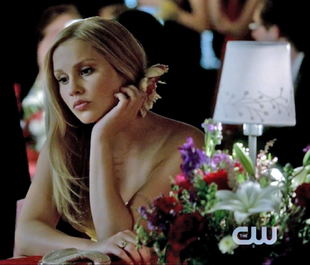 I love the centerpieces for the tables! They were fresh flowers with a lighted lamp in the center. I like how they combined two things people like to have in the center of the table and combined it instead of choosing one or the other. The bouquets included white lilies, purple stock, burgundy carnations, white buttons and accent flowers. A lot of schools choose not to have fresh flower centerpieces at their proms but we have a local high school that still does it and the kids love it! They keep the cost down by bring us their own containers and many times bring in items for us to include. This year they brought us party masks to include in the bouquet.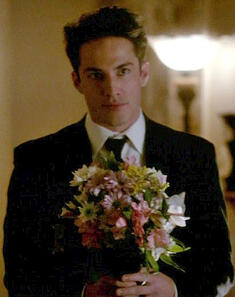 Caroline, vampire and friend to Elena, left the Prom early because she was upset that she couldn't spend her senior prom with her werewolf/vampire hybrid boyfriend, Tyler. She came home to set up for a party she was having later that night and there was Tyler waiting for her with a hand tied bouquet of flowers. This bouquet included lavender daisies, cushion pompons, alstroemeria lilies and solidego. It was very pretty and very sweet of him to bring.
Hopefully there won't be vampires at your prom but there should be flowers! Go to our website to view our entire selection but clicking below!

Check out our latest video on Prom flowers below!
Vampire Dairies airs on the CW network on Thursday nights. Make sure to catch the next episode or watch an episode on thier website now by CLICKING HERE!
All images of Vampire Diaries are owned by the CW Network.