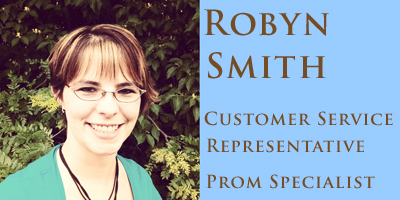 As we come to a close on the 2014 prom season here at Gillespie Florists, my second prom season with the shop, I have lost track of how many times I have been asked what my favorite corsages are. The shop has several very creative floral designers that create our amazing corsages so it makes it very hard to pick just one favorite. I have spent a lot of time dealing with our prom items this year and I finally have it narrowed down to my top five favorite corsages for this season.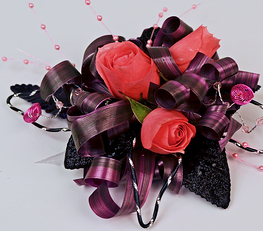 Pink Curls
This corsage is great for someone looking for something different. Black glitter leaves, pink beads, pink wired swirl sprays, black and silver wire, topped with aspidistra leaf ribbon and hot pink sweetheart roses make this a very uniquely designed corsage. To make it even better we could put this on any one of our keepsake bracelets!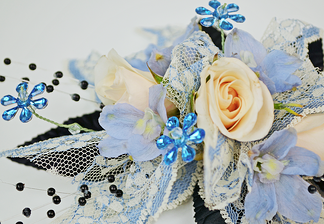 Dreaming Blue
This mixture of creams and blues makes for a very elegant but fun corsage. The beautiful cream and blue lace ribbon on top of black leaves and beads, topped with cream colored sweetheart roses and then accented with blue delphinium and blue faux rhinestone daisies is perfect for a classy but fun look.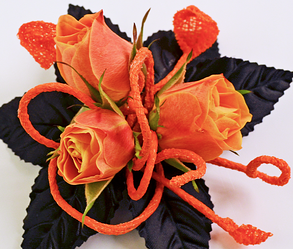 Fire Island
Decided to go with a brighter colored dress and now you are worried about matching orange flowers to the color of your dress? Don't you worry, we have you covered. This corsage is unique with the use of the orange flex wrap covered wires which gives a new texture and look on top of black leaves. Add a few stunning orange sweetheart roses and there you have it, a perfect match for your bright orange dress!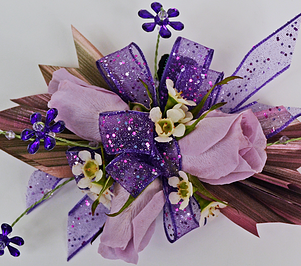 Purple Pixie
Another new style for the 2014 Prom season! These lavender sweetheart roses are so pretty nestled in the purple flash ribbon with a splash of white wax flower filler. Add some purple faux rhinestone daisies and the versatile aspidistra leaf ribbon and you have the perfect mixture to accent that beautiful purple dress for your prom night.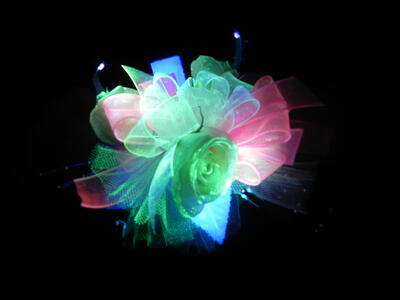 Glimmer
Want your corsage to be noticed by all on the dance floor as you dance the night away? Glimmer would be the way to go! This knock out corsage comes on a custom designed Glassia florescence wristlet that is battery powered and ready to go with its very own ultraviolet lights. White sweetheart roses, bright pink and brilliant white sheer ribbons, silver beads and silver dot tulle sprayed with the Glassia florescence formula are designed onto the custom wristlet. Flip the switch, hit the dance floor and amaze everyone with your out of this world corsage! Afraid that the glow won't last all night, don't you worry because we send you home with your very own, compact spray bottle of the Glassia florescence formula that will fit perfectly into your purse or date's pocket! Give your corsage a quick spray and glow your night away!
If you like the style of one of our corsages but the colors won't match your dress, don't you worry we have you covered, all you have to do is ask about our color options!
Want to fancy up any corsage you see on our website??? Check out of huge selection of keepsake bracelets that will leave you with something special to remember your night!