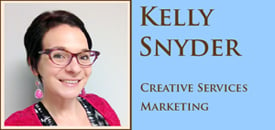 Welcome back to Part Two of our Prom Corsage Fit for a Princess Series! We started off Part One with the most famous Disney princess of them all: Cinderella and selected stunning corsages for Belle's beautiful ballgown and Mulan's simple yet striking one-shoulder long red dress. Which corsages will be worthy of the final fairy-tale inspired dresses? Let's find out together!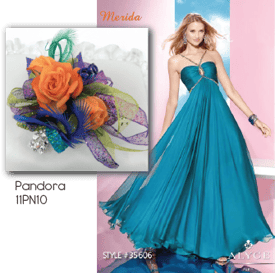 4. Merida:
We ended Part One discussing Disney ladies with names beginning with the letter "M" and the color Red; let's move onto the courageous Merida from Brave. Merida's dress of choice is flowy and sleeveless; which works out great if you're going to go to an archery lesson before or after prom. A versatile dress needs corsage of similar versatility therefore Pandora was selected. Perhaps the corsage should have been more simple with a bit of refinement but that's not Merida's style. The vibrant orange spray roses, blue wire, mutiple ribbon colors and fun feathers fit Merida's attitude to the "T". Isn't that what we hope for in the finished prom dress ensemble? That it fits, not only physically but in personal style as well?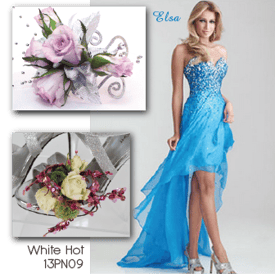 5. Elsa:
I know, I know, can we all just "Let it Go" about Elsa and the cast of Frozen? Hasn't she had enough face time?! Sorry, not sorry but this dress is fabulous and has a couple of corsage placement options. Be assured it's just the dress...well..I do like the song, it's catchy. And the way she wields ice to make a castle was pretty neat too. Therefore we have decided Elsa needed to be on this list.
The hi-lo dress is a vision in an icy turquoise with exquisite beading on the bodice. Forget putting anything on the wrist as it might interfere with this breezy chiffon; instead, add some extra fabulous to your strut with the "White Hot" corsage on your sparkling silver shoe! Another option would be an armband. Its swirling silver shape with sparkling leaves and barely pink kissed roses would accent the bodice and make a statemet; just like Elsa.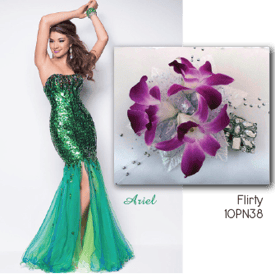 6. Ariel:
Speaking of statement, remember when Disney introduced their first princess under water? The Little Mermaid is known as the movie which started the Disney Renaissance in 1989 so not only did it stand out in terms of quality which parallelled the classics such Cinderella and Snow White but also made a splash using a red-headed teenage mermaid as it's main character. Also, we're talking about mermaids!
This Ariel-inspired dress is fancy, fun, and full of modern whimsy. The bodice is a sensational myriad of sequin delight trailing into the several layers of marine like chiffon. The orchids in our "Flirty" corsage pull the deep fuschia accents from the dress and we add white opalescent leaves, silver beads, and a stylish chunky rhinestone bracelet to complete the look.
Prom dresses and princesses, I could keep writing on this subject for days! However we will end here with these lovely ladies with their fairy-tale inspired dresses and fantastic corsages which complete their dreamy ensemble. Are you in the middle of finding the "glass slipper" of corsages for your prom dress? Is your heart wishing for a dream prom ensemble? Gillespie Florists can help make dreams a reality with artfully designed prom flowers to complement your style. Check out our website for more ideas and stop by our shop to get started today!