---
"All you need is love.
But a little chocolate now and then doesn't hurt."
― Charles M. Schulz

I agree with the great Charles M. Schulz, except let's make "now and then" more often. When you bite into your first Ghyslain Chocolate, you'll taste what I mean!
Wait a moment, we need to back up! Because before the bite comes the sight. Have you seen these beautiful works of art? The internet can only do so much for your senses. A digital picture is worth about 500 words; however when it comes to the absolute artistry of these handcrafted chocolates made in Union City, Indiana, well...one should view these beauties in person. If the image below hasn't piqued your interest enough to grab keys and visit Gillespie Florists immediately then let me persuade you further with an ode to these exquisite works of art which my eyes long to behold forever but my mouth will only withhold these treasures for mere moments.
Banana Foster, Pistachio Amerana, Tahitian Vanilla, Biscottino Salted Caramel...I'm drooling right now. Literally drooling. As exotic and delicious as the titles are, what lies underneath will seal the deal with a marriage of flavors such as: white chocolate infused vanilla bean; Gianduja milk chocolate ganache with carmelized hazelnut; dark chocolate center with passion fruit blend caramel; orange marmalade, dark chocolate ganache infused with Grand Marnier extract and chocolate pearls...

Am I kidding you right now? No! This is no joke, friends. Ghyslain is the real deal when it comes to superb gourmet taste and handcrafted artisan flair.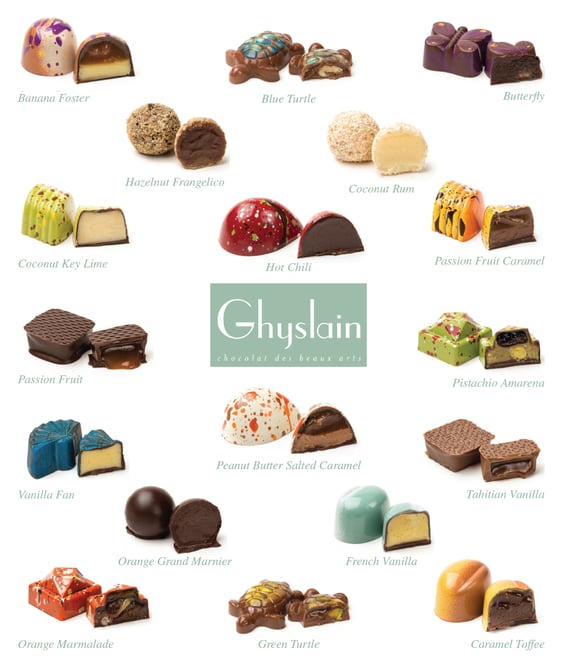 Oh the glory of just a mere visual sampling of these tasty treasures. Waiting to be admired and relished for the mastery in both taste and design. They are so breathtaking in sight you will not want to eat Ghyslain Chocolates. But you will and you won't be able to have just one. Trust me, you won't be sorry.
Go on, prove me wrong on this. Before proof can happen a visit to Gillespie Florists is in order where we have a grand selection of Ghyslain Chocolates. Better yet, give us a call and have them delivered with a delightful bouquet to someone you love. Maybe they will say "Thank you" by sharing. Or maybe you should just order an extra box for yourself. Yes, that would be best. Love is strong but I'm not sure it can withstand the sheer magnitude Ghyslain Chocolate experience (says the person who sampled the product and *forgot* to share).
Say "I love you" "Just Because" or "Thinking of You" today and visit our website for all the flowers in your life!