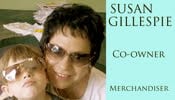 With prom season in full swing at Gillespie Florists, we are enjoying the challenge of making captivating corsages to match individual taste and style. This year has seen a dramatic shift to wonderful frothy colors of champagne and shrimp with overlays of lace. This particular design appeals to the hopeless romantic wanting to capture the updated vintage look featuring a myriad of pastel and the ever popular nude palette.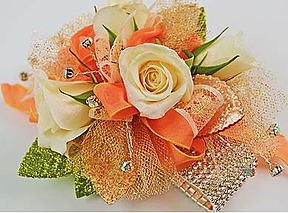 On trend right now also is the large chunky style bracelets. We have an exciting selection of styles and colors featuring silver metallic, crystals, pearls, and even full rhinestone cuffs. Each a wonderful keepsake to wear again and again.
Featured here is one of our newest designs capturing the current on-trend prom style called "Vintage Peche" It has a stunning full cuff crystal wristlet with champagne lace overlay on peach ribbon, crystal sprays, white sweetheart roses and glitter tulle.

Another exciting trend this year is the addition of sheer illusion. Normally used in costuming, this wonderful beige stretchy fabric allows you to have cut out detailing without showing actual skin. If you are the dramatic Fashionista, you can make a statement and still be demure. If you are more the Goddess type, then consider something very unique as this "Goddess Tiara".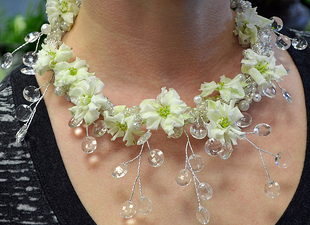 This beautiful head piece features a rhinestone tiara as the base with dainty wax flowers woven in. It's natural soft greenery gives an ethereal effect and is finished with iridescent green leaves.

Not quite like you? Then how about Legendary "Elfin". You can define your look by wearing your flowers in unexpected places such as a necklace or flower ring. Here we have the newest trend for prom in a hand tooled wire necklace called "Frozen". It features unexpected blooms of Larkspur woven into 6 and 24 gage silver tone wire with iridescent strands and faux crystal stones. Each necklace is a one of a kind work of art!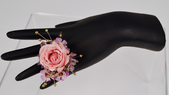 Nothing quite like having magic at your fingertips with this beautiful flower ring called "Sugar Sugar". Here we have a delicate pink spray rose with an adjustable ring band and adorned with wax flowers and a rhinestone spray.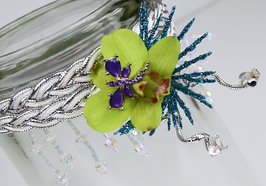 Everyone loves the natural Bohemian-Island girl look so why not wear a stunning headband that balances perfectly with a strapless gown. This beautiful piece is called "Bohemian Head Band" features a stunning green Dendrobium Orchid with a purple crystal dragonfly pin atop a silver braided headband. It is finished with blue accents and iridescent hanging bead strands.
Ok, still not you? Then how about all the Prom Rebels out there! Push the fluff and bling aside and lets get creative.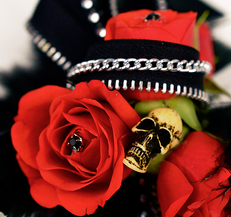 Here we have designed something perfectly different for you called "Grim". It features chains, raw zipper edges, skulls, feathers and black ribbons. Blood red roses sets it aflame with individuality. We have many different types of fabric ribbons, lace, plaid, cording, buttons and charms to create that personalized, exclusively unique design. Steampunk? Rebel? Alternative? We've got you covered!

We have expert designers and staff on hand to help you create whatever you're dreaming of and possibly something you haven't thought of yet! So whatever style you are, whatever color of the rainbow you need, whatever design of wristlets, body or accessory flowers you have in mind, come on in and let us show you how it's done!