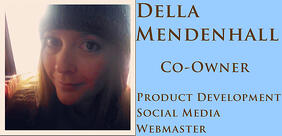 The past couple of years I have been blogging about 'Glee' Prom and have received positive feedback. So here's the scoop on what flowers our favorite characters wore to 'Glee' Prom 2013! First and foremost, I noticed there were way more characters on 'Glee' wearing prom flowers this season compared to past seasons; which as a florist, makes me very happy!
BrundleProm?
The theme for the 2013 'Glee' Prom was BrundleProm? It was either BrundleProm or simply Junior/Senior Prom, which is a disappointment when looking back at past Prom themes. Unlike previous years, there was not a great variety in the types of flowers worn to the prom. The characters wore mostly carnations and roses on the inexpensive throw away elastic wristlets. I did notice however, one or two of the main characters did wear keepsake bracelets!
Most Memorable Corsage
The most memorable corsage was Tina's; mostly because it was one of the few corsages in the entire show that looked like any care was put into putting it together. This corsage outshone all the others with red sweetheart roses, black ribbon, white pearl beads, green leaves and a keepsake charcoal gray wristlet!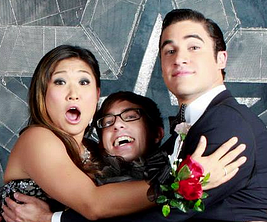 Since Tina was crowned queen of the BrundleProm, it's not a surprise they put extra effort into having her wear a pretty corsage. Of coirse, it is unfortunate red slushy got dumped all over Tina while being crowned but her true friends took care of her, got her cleaned up so she could enjoy the rest of her prom as queen!
Favorite Corsage… or Not!
I didn't have a favorite corsage this year. There was much left to be desired when it came to the corsages worn by the lead characters. In previous seasons, they always had nice corsages which were different from everyone elses and even had some creativity put into them! This year, however, everyone was wearing one of two flower types: Carnations or Roses. Many corsages had inexpensive satin ribbon, elastic wristlets, and green leaves; making the final effect oversized and sloppy.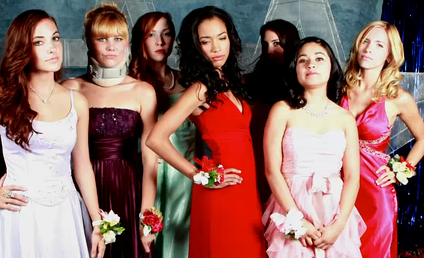 With that said, I LOVED the fact that almost every single person in the cast was wearing prom flowers! Even all the extras were wearing prom flowers! They had a scene where some of the Glee Club members were performing on stage and the crowd of high schoolers were jumping and dancing and you could see the corsages bouncing around on their wrists! For that reason, Glee producers; you are forgiven for not putting more thought into your leads' prom flowers!
Boutonnieres
Have you noticed they use the same boutonniere holder every year? (I'm probably the only person who notices but I'm just glad they are showing a holder at all.) I believe Blaine was wearing it this year, a metal boutonniere holder with a carnation. I'm kind of tired of seeing the same boutonniere holder every year, but admit they serve a great purpose.
Boutonniere holders are a lot easier to use than the traditional "pin-on" because you don't get poked with a straight pin!
Past that, there's not a lot to say about the boutonnieres of the BrundleProm. It was nice to see more guys wearing flowers this year!
Once Last Thing...
I don't know if you noticed but they were using a hardy mum as part of the decor for the photo area. Did you know Hardy mums are only available in the Fall? Now, it could be said that they were using a "Florist Mum" (a non-hardy mum grown in greenhouses year round), but the mum shown is way too big to be one of those. Which leads me to something that's been bugging me and if you follow Glee closely, it should bug you too! If you don't, let me explain....
Last season ended mid-school year and this season picked back up after school winter break. For the show Glee, prom is taking place in early to mid spring, NOT the fall. The reason why this bugs me is because at the end of last season and the beginning of this season, the show didn't explain that they were splitting the school year up and making two seasons out of one school year. So, as I'm trying to piece this together, they show contradicting things like the hardy mum at prom!
All in all, I really enjoyed seeing all those Prom Flowers on one of my favorite shows.
In Indianapolis, our Prom season is a long way off but it's never too early to think about what flowers will make your perfect prom! If you are a GleeK like me and want 'Glee' Prom flowers to accent your style, click below!