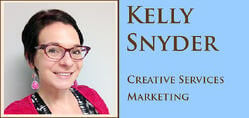 Trends are kind of like seasons; they come and go and come back again. When they return there may be a little (or ALOT) of variation but still the base idea, concept, weather, colors, they are still there. A fabulous difference between a season and a trend is you have more control over a trend and how much it affects your personal style, if at all! As fall kicks into full gear we will take a look at some of the trends for weddings this season. Who knows, maybe you'll see a rerun revisited in whole new way as you're enjoying the heralding colors of fall whilst sipping warm cider and secretly hoping the bride and groom will invite guests to take home that shabby chic table centerpiece burlapped vintage jar with wildflowers; because are they going to take them to Santorini? Hey, a girl can dream...or she can get on Pinterest and DIY it.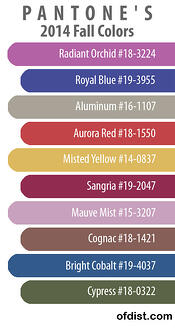 Since the weddings for fall season have recently begun it will be interesting to see what our autumn brides have in store for us this year! First off, let's take a peek at the color palette.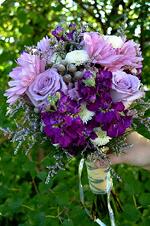 Pantone's color of the year is Radiant Orchid. At first glance I'm thinking this color isn't very radiant; it is more of a muted dark pink with splash of purple. However after perusing the tints and shades we can find a variety of ways to make this color pop front and center from sleek metallic to shabby chic fabulousness! Case in point, I absolutely adore this bouquet! The accent of lavender ties together the entire look right down to the shimmering opalascent ribbon.
Royal Blue is a strong competitor along with Alumninum for smooth sophistication while Mauve Mist and Cognac speak the softer yet refined language of nude fashion. Clean cut Cobalt and subtle natured Cypress although next to each other will set complementary tones when it comes to decoration.
My personal style leans towards the Aurora Red, Misted Yellow, and Sangria. Nicely saturated earth tones with a twist which mimic the traditional season of changing leaves, brisk days, and nights alive with bonfires, roasting marshmallows, and ghost stories abound in wooded hallows.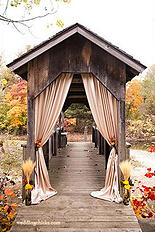 Speaking of wooded hallows; Outdoor, indoor, in a barn, under a tree, where are these fall weddings going to be? The fall season is the optimal time of year to be outside and most couples take advantage of the fair weather and celebrate the nuptials outdoors using venues such as farms, vineyards, parks, or even their own backyard!
Will the decorations be a glistening glittertown of glory? Roaming woodland creatures with tabletops displying tree trunks, lace, and burlap? Magnificent metallic and fabulous fabric fusion? The possibilities are endless and the starting point is a texture mashup and what better way to convey this than beginning on the path of Shabby chic?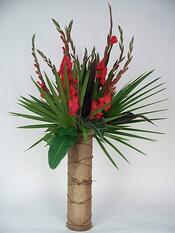 A wonderland of repurposed woods and goods are perfect for a rustic fall setting especially if the nuptials are going to be held outdoors. Simplifying with burlap & twine accents or dressing it up with mismatched antique bottles and/or mason jars filled with mixed flowers for a countryside flair is a popular choice!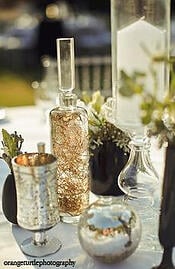 Burlap, lace, antique glass, seems like there is something missing. Something which with sparkle and shine besides candles and twinkling lights. Of course! Glitter and Metallics!
These frontrunners of fashion can transform a simple bottle into an elegant centerpiece element! As a DIY society we can create the look of antique silver and copper containers without breaking the bank and still have swanky decor. Have some leftover vases from beautiful arrangements? Perhaps metallic gold or silver spray paint and a bit of time? Oh Pinterest...or rather, internet, where we would we be without you. Still creating fabulous weddings, but having millions of ideas to inspire one of the most important days of our life? It makes it easier doesn't it?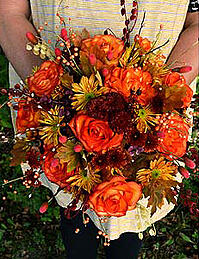 You know what else will make your wedding day easier? An amazing florist *cough*Gillespie Florists*cough*.
Friendly, knowledgeable, talented, and ready to take your wedding trend ideas and inspirations to the next level. Keeping up with trends and working outside the box, we're always on the lookout for exciting and/or fashionably revived ways to help you celebrate your special day.
Click below to schedule a free consultation with our wedding specialist!