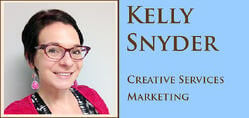 It's that time of year, friends! The most spooktacular event of October is eerily hovering in the distance. We've been waiting on pins and needles to sift through our cobweb captured boxes full of ghoulish decorations, terrifying costumes, and put our brewing schemes for horrific fun into action.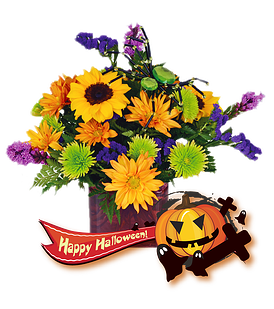 October has always been my favorite month for the long awaited occasion of decking out the porch to beckon trick-or-treaters to come hither so I throw candy and marvel at creative costuming and adorable characters. But don't let the kids have all the fun! As adults we hold parties, make our own costumes, and swipe the hard-earned candy from our kids. Come on, if you're a parent, you're a candy-swiper. Admit it; it's for the children and you're helping the dentist protect little teeth from the candied indulgence of Halloween.
Short for 'All Hallows Eve' it initiates the three day celebration of Allhallowtide which is dedicated to remembering the dead. The traditional theme is using humor and ridicule to confront the power of death. Jack-o'-lanterns, costume parties, trick-or-treating, haunted houses are a few of the many ways we pay tribute to the day. We enjoy taking part of this good-spirited fun at Gillespie Florists with designing spooky fun arrangements. I thought I'd highlight a few of them today in hopes one of these will be sent my direction. Just kidding! Recently I received the most gorgeous, spilling-over-the-top, amazing arrangement along with a new line of candy we are carrying! Ok, enough candy talk! Let's see what our designers have up their mummified sleeves this year! The Eerie Spider bouquet pictured above is a prime example of a few Halloween treats we will be exploring!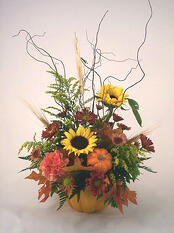 We do have some terrifying pieces to explore but will be leading in with something a bit more traditional with The Pumpkin Patch Deluxe! This arrangement celebrates the fall season with vibrant yellow sunflowers, burnt orange fall daisies, curling willow, wheat, and pumpkin accents in a ceramic container. It is a perfect centerpiece for a table overflowing with caramel apples, warm apple cider, pumpkin bread, apple crisp, turkey pumpkin chili...you get the picture! The beauty of this piece is not only having the fall season sprouting out of a pumpkin but also the longevity of the flowers used. It's a win-win!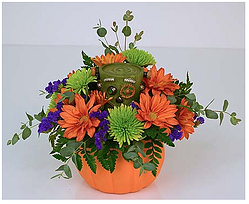 Continuing on with the pumpkin theme I will keep a pumpkin-shaped container and raise you with a keepsake steampunk light up Frankenstein's Monster head. The shocking orange fall daisies, poppy purple statice, and a smashing variety of greens bring this arrangement to life! Add in the steampunk flavor (who doesn't love springs, gears, and metals shaped into a monster?) and this piece is good to go in the family friendly fun category!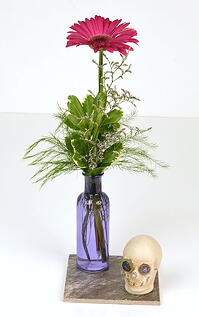 Call me biast, that's okay, I can handle it; I am loving the keepsake steampunk accents on our Halloween treats this year! Let's consider for a moment you may not have the real estate on the main table for an arrangement but still want to celebrate the spirit of the occasion on a smaller scale. The Haunted Skull is perfectly sized for a desk, nightstand, side table; pretty much anywhere! The simplicity of the gerbera daisy with limonium in a poison bottle complements the light up steampunk skull. The tile ties everything together to complete the spooky display.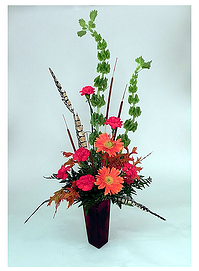 Speaking of displays, the last design on this snapshot of our Halloween and Fall collection is the sleek and sophisticated Autumn Elements. Colors of the season spike upwards out of a modern red rectangle vase. Belles of Ireland, carnations and gerberas mixed with fall leaves, pheasant feathers, and greenery create a stunning piece which will command attention where ever it is placed!
Gillespie Florists carries such a spectacular assortment of Halloween and fall bouquets it was truly difficult to narrow down to a select few to highlight! If any of these have picqued your interest or invaded your brain come stop by our shop or check out our website for seasonal treats! (No tricks, we promise!)