Fur white as snow, eyes dark as night;
she'll give kisses you know,
it's our Girl Pearl, what a delight!
There's a special little lady who proudly prances around and reclines majestically from atop her pillow at Gillespie Florists...Have you seen Pearl? If you haven't met her in person, plan a visit to meet one of the most favored ladies at our store. Till then, learn more about our queen of flowers and how she's not just a pretty pup but also a good friend when extra kisses and hugs are needed.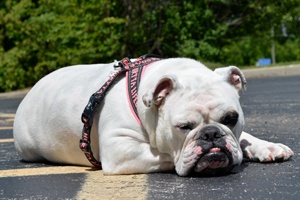 A Bit About Pearl
English Bull Pearl is six years old as of March 2016 with traces of Champion Marine Bull running in her lineage. Her name on the AKC papers is "Black Eye Pearl" because of the black brindle ring around her eye. Pearl's favorite toys include KONG Squeezz Jels Pig Squeaking Dog Toy and Hartz Chew 'n Clean Bounce & Bite Dog Toy, Bacon Flavor.
She loves belly rubs; her sister, Sophie; and cat-mate, Tuesday. She also enjoys turning anything into chewtoys including but not limited to: paper mache containers, empty cello tubes, boxes, carnation flower stems and water bottles. Pearl is accustomed to walking around by all the design stations to see what the staff has saved for her to play with.

While on the subject of playing; Pearl likes to feign attacks on the wheels of the dolly, trash cans, vacuum cleaner, and small carts while they are in motion. Some of her dislikes are: being denied the food you are eating; thunderstorms; and doggie friends on leashes...take the leash off however, and she is ready to play with a new pal (weird quirk, isn't it?). Last but not least is Pearl's LOVE of laying and sleeping in the sun.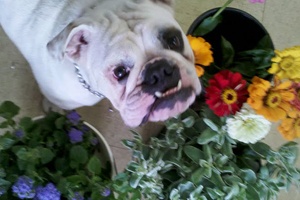 Pearl Comes to Gillespie Florists
Pearl began visiting the store as a young six week old pup when her mom was concerned about her being alone for ten to twelve hours at a time. As she got older she stayed at home but had a terrible fear of storms; her sole comfort was being around people therefore her mom, Della, would bring her into Gillespie's during the height of storm season. After a couple of years (of observing Pearl's ability to avoid being underfoot and Sarah's approval) in the summer of 2012, she became the official "shop mascot".
What does the shop mascot do? "She loves to sleep; she has her own bed in my office but will often sleep out on the showroom so she can see new customers come in" says Della. Greeting customers is an important role of shop mascot to Pearl. She spends a lot of time in the display area inspecting plants or hanging out near the office. When the doorbell rings; Pearl is eager to greet visitors with a wiggly behind and happy face. Her day is made whenever children come in with parents because she LOVES kids! Kids are more than welcome to play with our patient Pearl. She is very attentive to them, following them around the store and accepts all sorts of affection whether it be hugs, gentle ear tugs and/or playing with her toys.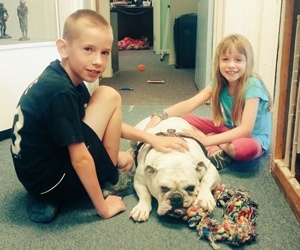 (Almost) Everyone Loves Pearl
Pearl is well loved around the store; not only by the staff but also the UPS and FedEx drivers; the red carpet guy; Kevin Gregory; and last but not least, our customers! Regular visitors come in calling for her if they don't see her right off the bat. When Pearl walks in, she's greeted with lots of "hellos" and often receives little treats; just because.
99% of customers love her. Although she is not a certified therapy dog, she acts as one for staff and customers often. She is a great tension breaker when things get tough. Everyone has a bad day now and again and Pearl is always there to comfort!

"There have been many occasions where families have come in to make plans for funeral arrangments" Della mentions. "It is a difficult time, they are grieving and can barely think of what types of flowers they want. Then here comes Pearl, just doing her slow walk with those hips swinging back and forth. She comes up quietly, no licking or barking. I have seen people in tears just sit down on the floor with her to pet and hug her. She'll sit calmly and wait. Before you know it they are smiling through their tears and she's made getting through such a tough experience just a little easier."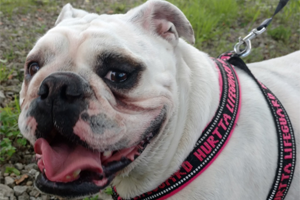 Gillespie's Pearl
A welcome break to the every day; helping create a positive experience to visitors and customers; stress reducer for staff; Pearl definitely wears a lot of hats as shop mascot. But it's a win/win situation as she loves all the attention she can get and we love having Pearl's "lovin", her sweet personality and smiles around the shop.
Have you met Pearl? Come by Gillespie Florists while you're picking up something special and say "Hello". She'll give you wiggles, kisses and smiles in return.
Miss out seeing Pearl on your last visit? We've got links for you follow Pearl and her family adventures below!
Pearl on Twitter at @GillespiesPearl
Read more about Pearl and her sister Sophie here