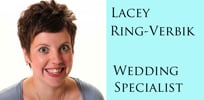 Valentine's day is just around the corner and romance is in the air. February is filled with red roses, diamond rings, chocolate and best of all proposals and engagements. What comes after proposals and engagements…..that's right, weddings! This year promises to be an interesting one. We're already working hard and studying up on the latest and greatest trends for 2011.
What are some of those trends, you ask?
Here's a sneak peak at some of the trends you can expect to see.
Bright, tropical and fun colors are in this year. Apple green, hot pink, red, orange, yellow, slate grey, aged gold, emerald green and chocolate brown to name a few.
Say goodbye to over-the-top elegance and hello to a new era of "casual" traditional.
Grooms are going to assist in more of the wedding planning duties to ensure that the big day is a reflection of both people involved.
The Do It Yourself wedding scene will become mainstream. It's normal for most brides to custom create at least one element of their wedding.
Family owned-heirlooms are becoming popular additions to wedding designs. One-of-a-kind becomes the "new black".
Because of the popularity of Friday weddings, venues will likely increase their rental rates.
Keep an eye on our blog for more interesting designs and ideas.
Want to view some Gillespie Florists wedding bouquets? Click Here to view our wedding gallery now!
Image is courtesy of
Stewart Imagery
. Thanks Stephanie!