Succulents: Low maintenance; available in variety of colors, shapes, sizes; versatile; garden friendly; wedding friendly; plays well with fashion trends; and inexpensive? Where do I sign up?
The possibilities are endless with these hardy little "fat plants" as they are sometimes referred. Desirable for their ornamental looks and hardy nature there is no telling what our creative brains will come up with next in terms of how to use these versatile flowers. Succulents are in high fashion for weddings and it's no wonder. Dress them up with sophisticated ohara roses and ranunculous or go loose leafed and airy with caspia and cabbage, there's no stopping these plants from being a bridal favorite all over the country and with our brides at Gillespie Florists! All of our wedding flowers are gorgeous and the ones which incorporate succelents are no exception! We've put together a collage of just a few of our stunning designs including these popular plants!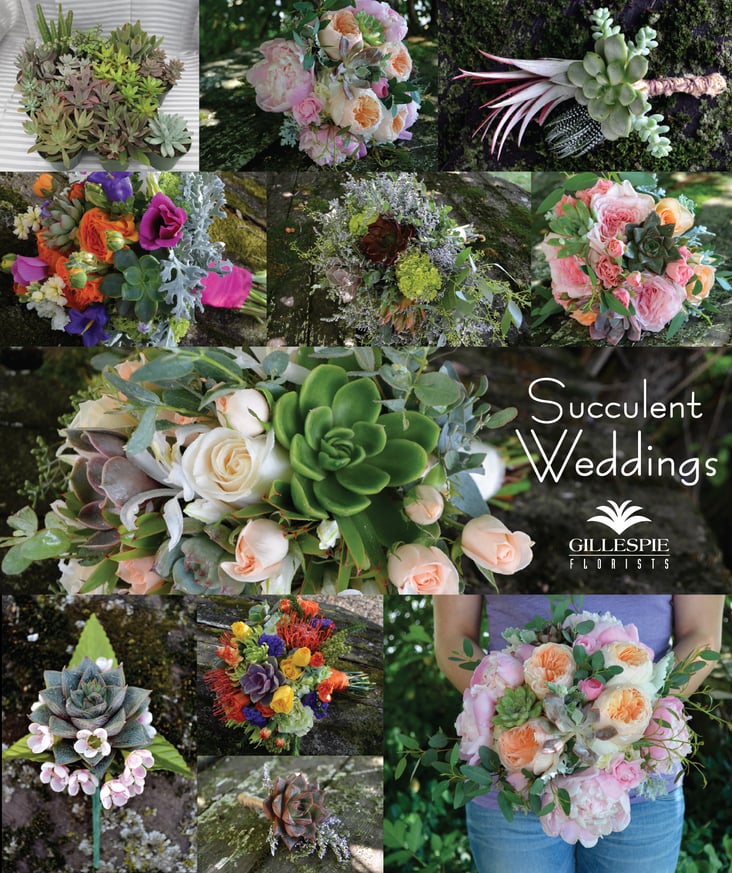 From soft and subtle to outstanding bold and vibrant, succelents are a lovely addition to all manner of themes and styles.
Let's not stop there, the exotic look and low maintenance appeal of succulents go further than your average wedding flowers. Go to your neighborhood dollar store, value store, favorite found object shop and pick up containers matching your theme and decorate the reception tables with these take home favors for guests. Create a long lasting impression which will add flair and interest to any home and/or garden! This is just one of hundreds of ideas on succelent incorporation into weddings. Just check your favorite idea collecting website (you know which one I'm talking about...i bet you have hundreds of pins to prove it too!).
There are many pros to utilizing succelents in weddings! Low maintenance; variety of sizes, shapes and colors; year round availability; low cost and versatile. Thinking of incorporating them into your wedding? Give us a call today and schedule a free consultation with our wedding specialist!