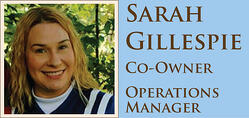 Even when you can't be there, life still goes on. Though our showroom is temporarily closed during this time, we are still available online at gillespieflorists.com and on the phone (317.273.1100) for all your floral needs.
To keep our staff and customers safe, we are offering No-Contact delivery as well as Curbside Pickup at our store so that we may continue to be there for you and your loved ones when you need us. For No-Contact Delivery, with your permission, Gillespie Florists can connect with the recipient ahead of delivery to establish their preferences for receiving your gift. This connection can be through text, email and/or phone. Deliveries can be left at a predetermined location (like the front or back porch), if the recipient prefers not to have face to face contact with our drivers. For customers who prefer to pick up at our store, we're offering curb-side service. Upon arrival, you can call us at our main number and someone will bring the order directly to you. No need to leave your vehicle!
Here is a short video of FAQ's with Sarah and Della. Have questions? You can call our store, message us on Facebook and Google and even send us a text!
From everyday occasions to the most significant life events, we have been and will continue to be here for you. #FlowersForLife
Be safe, be well and as always...wash your hands!

Gillespie Florists
9255 W. 10th St.
Indianapolis, IN 46234
Voice: 317.273.1100
Text: 317.509.0668
gillespieflorists.com
gillespieflorists@gmail.com
Temporary Business Hours:
Monday - Saturday 8am - 6pm
Sunday 11am - 3pm
Stay in touch with us via social media: