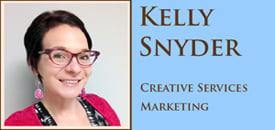 Every year, all the top wedding experts in flowers, cakes, dresses and more saturate the internet with new wedding trends. We don't have time to read on all the latest celebrity weddings, which colors are hot and which to avoid. Which is funny sometimes because in the end you make a theme your own. The trends are points of direction; from there, you do you!
Modern Garden is a flower wedding trend which came out in 2015. Relying on texture and loosely gathered florals, this theme has evolved over the years with more greenery and movement. This style is a keeper.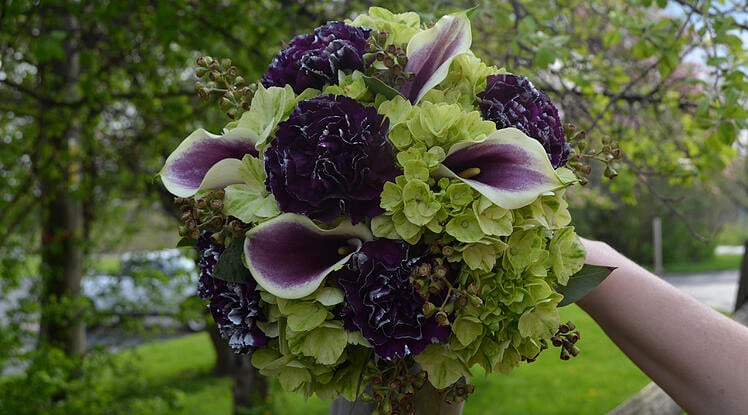 This striking bouquet above is an example of what you may find at a modern garden wedding.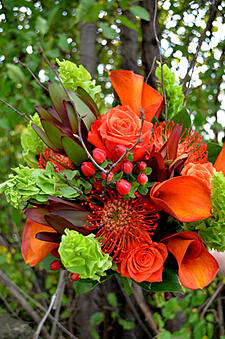 "Earthy", "textural", "natural", "vintage with a modern twist": these adjectives all fall under the description for a Modern Garden wedding. The colors will lend towards soft pastel earth tones; however bright and bold will also work beautifully in this category! Another description for this style floating around is "En Plein Air"; an open airy style wedding which ranges from shabby chic to down home country charm rustic.
What kind of flowers will we see in a garden style wedding? Large beautiful garden roses, callas, hypericum berries, succulent, and all sorts interesting textures you will find in billy balls, waxflower, scabiosa pods, liatris and more! The key word for florals and decoration throughout the ceremony and reception is texture.
If you are a member of the DIY revolution, love to incorporate shabby chic into your home, like creating crafty decor out of found objects and are prone to selecting patterns which shouldn't go together but do in the most interesting and eye-catching way, then this modern garden motif is definitely up your alley.
Expanding upon the color usage mentioned earlier this theme steps away from the glamour of silver and gold, introducing the more subtle metallic nature of copper. The rich and warm inviting hue is a perfect complement to "an afternoon of picking wildflowers" design and easy structure for centerpieces, accents, invitations, and beyond.
Since we're thinking about the open air, loose flowers, interesting artifacts and found containers, where does this leave the reception dining? Table settings are relaxed; creatively informal;, the menu is built from the growing trend in tasting and/or sampling stations; and the atmosphere is more of an ethereal rustic quality thanks to the twinkling scattered lights which are romantically reminiscent of stars.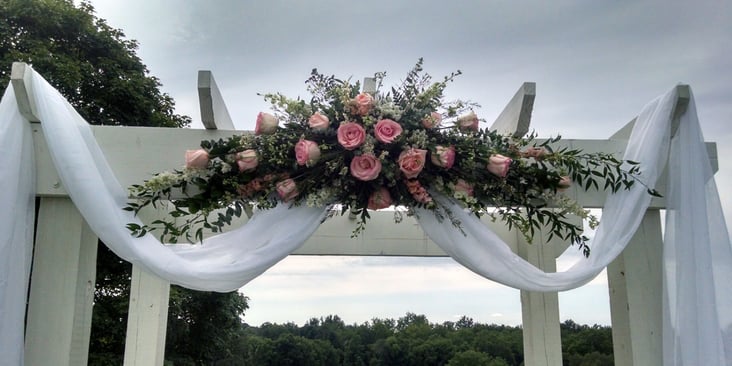 The beauty of a modern garden wedding, and most wedding themes really, is it is all about your interpretation of them. Want to have an informal and intimate ceremony and reception with bold colors, salvaged wood with string art, glitter gold containers and a gourmet taco sample station? You can! It's your wedding day. Make it your masterpiece.
Need bridal bouquet ideas and inspiration? Visit our online collection here!
Click below to schedule a complimentary wedding consultation with us!