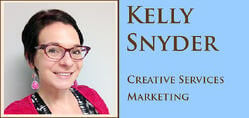 Picture this: You're waiting just outside sight range of all of your guests. The maid of honor and bridesmaids are in place in perfect alignment with the groomsmen on the opposite side, and everyone has started craning their necks and turning to see the vision of bridal beauty. There is one last item which pre-cedes you in this scenario. It completes the composition of the colors, dress, style, and theme of your wedding. It is your bridal bouquet.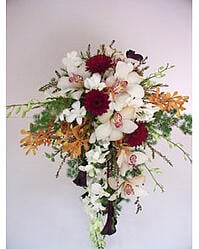 As you know bridal bouquets are designed in all shapes and sizes to fit the theme in a wedding. Why is shape important? It's just a bouquet, right? It's round, has flowers in it that match the theme colors, end of story! "I can't believe you just said that! I'm defriending you" said all of your wedding-pinning friends. The shape of the bouquet complements the style and shape of your wedding dress! So let's go through a few popular shapes and break out some knowledge for the next wedding themed coffee discussion.
Cascade Bouquet:
Also known as shower or trailing bouquet, this design is the most formal and traditional of bouquets. The shape is designed to spill gracefully over the bride's hands as it flows downward, creating an air of sophistication and style. It is perfect for a romantic themed wedding with a larger shaped dress. A good thing to keep in mind is not letting your bouquet overpower the extensive time and monetary investment of your bridal gown.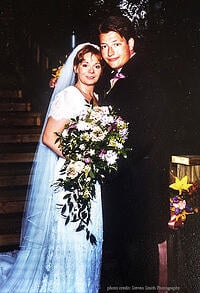 If your dress is simple and slinky, then the full trailing shape of the cascade bouquet would not be the optimal choice. Of course this wasn't always the case! When the cascade bouquet hit it's peak of popularity in the 1920's-1930's it was designed so large it often ensconced the bride!
It is suggested to use the cascade bouquet for a fuller figure, fuller dress, taller bride, etc. However these are just suggestions in many bridal guides; it doesn't mean you have to follow the rules! Case in point, the picture to the left from my wedding ages ago. I didn't know it was called a cascading bouquet but did know I didn't want a round-bunchy-Martha- Stewart-in-the-height-of-her-glory bouquet. So my floral godmother designed the most amazing, gorgeous, beautiful, trailing bouquet which could have overtaken my 5'1 frame in a straight dress but it really didn't...and if it did, I didn't care because I LOVED it!
Posey Bouquet:
Cascade bouquets are the most traditional choice but nowadays we've headed back to basics with the posey bouquet. During Victorian times, this smaller round shaped design was composed of tightly wrapped flowers holding very specific meanings and/or messages. Presently, the flowers selected are based on shape, color, and bride preference. The most adaptable of all shapes and sizes, it can be formal, or have a looser more natural look. The formal style consists of stems of the flowers being "fully-wired"; where they are removed and replaced with florists' wire and then constructed into a much lighter bouquet with an easy to hold handle.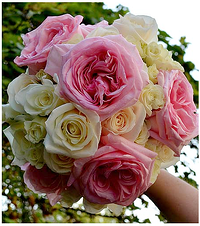 The more natural style has a more unstructured look with stems tied together with satin or lace ribbons, often adorned with beads, pearls, and other decorative strands. The posey bouquet started with just flowers but has transformed over the decades into an dazzling mixture of flowers, greenery, loose leaves, berries, you name it! This versatile style complements most dress shapes and styles lending another reason to it's acclaim with brides. One more note on this particular shape: it is often what bridesmaids will carry as well so plan for your bouquet to be bigger but make sure to keep the width smaller than your waist or the bouquet will conceal the beautiful frame that is you.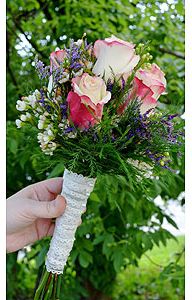 Nosegay Bouquet:
This bouquet is worth mentioning for it's simplicity and prominent usage of greenery. More for the bridesmaids this basic style can also be a statement of elegance and sophistication for the bride.
The small round-shaped nosegay was more prevalent in the Victorian Era and was often mounted in a tussie-mussie (a small, metal or glass, cone-shaped Victorian style holder). As the Cascade bouquet rose to bridal acclaim during WWII the nosegay died out until the 1980's when it was revitalized as a tight posy with small flowers and tulle backing. This day and age we enjoy the nosegay with satin and organza ribbons, a bit larger arrangements, and other small decorative elements to match the theme of the wedding. Both brides and bridesmaids will find this soft light style balances well with dress structures such as mermaid, fish-tail, and ballgown.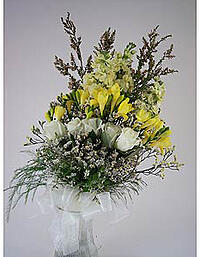 Presentation Bouquet:
You've seen this particular style if you've ever watched a pageant! The presentation bouquet, otherwise known as an arm spray or arm sheaf, became prominent after it they were given to famous actress of the 1900's, Sarah Bernhardt. These bouquets became so popular during that time they were named "Bernhart" bouquets.
Carried across the arm or held to trail down beside the dress, this style creates a stunning line and will showcase the features on the front panels of your wedding dress. Smooth Calla lilies, orchids, and tulips work well and create a modern elegance. Arm sprays can also be dressed up with greenery, multiple types of flowers, filler, for a more "just picked from a garden" look. This style goes hand in hand with an empire waist or straight A-line structured dress.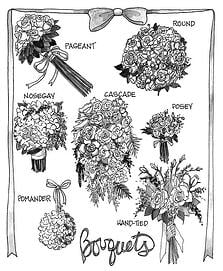 Let's see, we've covered Cascade, Posey, Nosegay, and Presentation; have I forgotten any? Absolutely not! There are many styles and shapes left to cover, however, you probably have a coffee date, family plans, get back to work, and things to do!
So I will leave you with one of many helpful graphics which show a snapshot of bouquet styles to quickly scan over before moving onto other activities. Now I could do all the research but I invite you to jump online OR visit us at Gillespie florists and speak with one of our wedding specialists about the many bridal bouquet options (including ones I haven't mentioned) available to you!
References:
http://www.botanicaldesigns.com.au/what-shape-bouquet-will-suit-me/
http://www.perfect-wedding-day.com/bridal-bouquet-types.html
http://mag.weddingcentral.com.au/flowers/history/