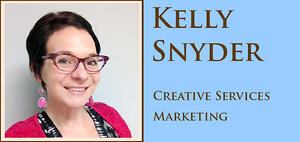 I dreamed of a wedding of elaborate elegance,
A church filled with family and friends.
I asked him what kind of a wedding he wished for,
He said one that would make me his wife.
~Author Unknown


Beautiful quote about weddings; it's a shame the author is unknown! What kind of wedding do you wish for? We all want something magical, memorable, breathtaking and completely unique! It goes without saying, EVERY wedding is unique. There is none alike. Certainly you could use the same location, theme, and colors as someone else but it will still be yours.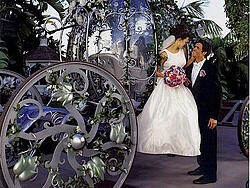 How does one go about having the wedding of their dreams? Get on Pinterest? Polyvore? Bride? Most ideas can be found online instead of just a short decade ago being predominantly in magazines. When I hear about weddings I often wonder how different mine would have been now, a short twelve years later!
Before we go any further I want to mention image to the right with the gorgeous carriage and couple looking lovingly at each other isn't us; I'd never do sleeveless. The carriage is one of the best looking Cinderella ones I've seen but not so much the Snyder style. "Then why is it in this blog? I thought this was a fairy tale." says the reader. Hold your horses, I'm getting there! Grab your coffee and let's get started!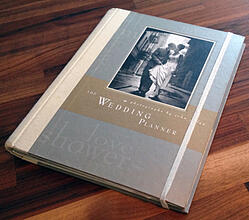 Once upon a time, around 2001, the internet was still very young and Pinterest was non-existent, perhaps a twinkle in someone's eye or an electric pulse in their brain. After receiving a coffee pot and bag of coffee beans for Christmas I received an envelope with a ring inside and my love on bended knee asking in front of my family to be his wife. Ick! Too sweet, let's fast forward to 2002!
I bought a wedding planner book in hopes of filling the pages with my wishes and dreams about our wedding. Samples of napkins, invitation paper, a multitude of business cards, ribbons, swatches; everything a proper wedding planner book should contain. Twelve years later finds this book with many empty pages, a few scribbles, and carefully written first page which states who is getting married to whom, when it will be, and that's about it.! I am not sad about this discovery; it was a reminder of what I "thought" I needed to do as opposed to what I did based on my personality.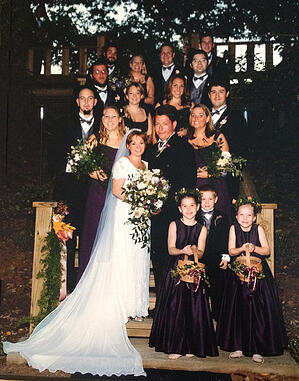 It's amazing how wrapped up we get into things we think we should do. Example: being the daughter of a florist. I should have all the flowers memorized, categorized, know what blooms when, and exactly what is going to be in my wedding bouquet! The truth is I had NO idea what I was doing and the thought of having my floral arrangements down to the last minute detail was terrifying! Fortunately, Gillespie Florists had my back and up front and center was the floral fairy godmother, Mary Alice.
I'm sure her eyes rolled back into her head during our consultation as my description was something along the lines of "I don't like Martha Stewart clumps and my bridesmaid dresses are wine and ivory..or peach..I think". Pulling teeth would certainly be easier than putting together bouquets for this indecisive gal however Mary Alice forged ahead and came up with a plan after playing 20+ questions.
My mother was also available to give more accurate descriptions such as style of dress, color swatches and the fact I didn't consider arrangements outside of the bridal party like tablepieces, swags, flower girls, etc...oh stop gasping, I told you I was the odd daughter. My dad not only ran the flower shop, but also built a staircase and a concrete sidewalk path leading down the tree covered ravine at the Gillespie Ranch (my parents home) where the wedding took place.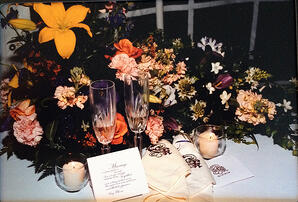 Looking back I realize just how much of a dream come true this wedding was. My fiancé and I worked on guest lists, coordinating tents, photographers, food, gifts, etc. I designed invitations, programs, creating and embroidering our monogram on napkins, getting dresses and fittings and anything related to flowers, the "Gillespie Florists" family handled. It was a beautiful collaboration of families, both work and home, to make our special day the most unique and meaningful experience. I am thankful for my floral fairy godmother who interpreted my vision and created a theme which complemented the style and nature of the bride and groom to-be. We're also very thankful for the creative vision from my parents and the transformation of the ravine which has hosted countless family gatherings and two weddings. What else makes a wedding a fairy tale besides enchanting transformations, fairy godmothers, beautiful bouquets, and fancy dresses?
Perfect weather and timing.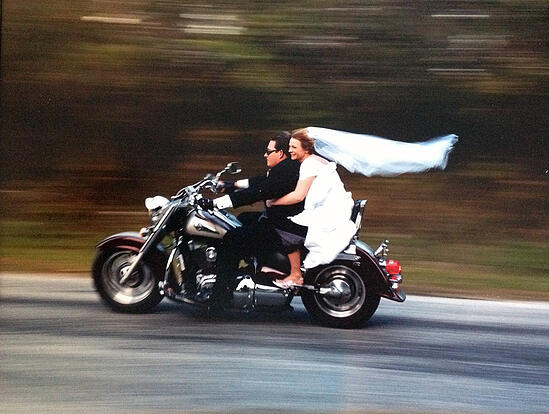 Whether you have your wedding details down to the last dotted "i" or need some help in solidifying your theme or direction with flowers the fine and caring staff of Gillespie Florists is here to help make your special day a dream come true.
Browse a few of our favorite designs in our wedding collection and click below to schedule a consultation!
Want to know more about my floral fairy godmother? We have a special interview right here!