---
"Summertime is always the best of what might be"
- Charles Bowden
School bells have rung, trees are beginning to show their golden autumn colors; with soft cool breezes blending with the bold heat of the sun, summer is bidding us farewell for another year.


However, we are going review a few of our favorite summer wedding flowers before fall season hits head on!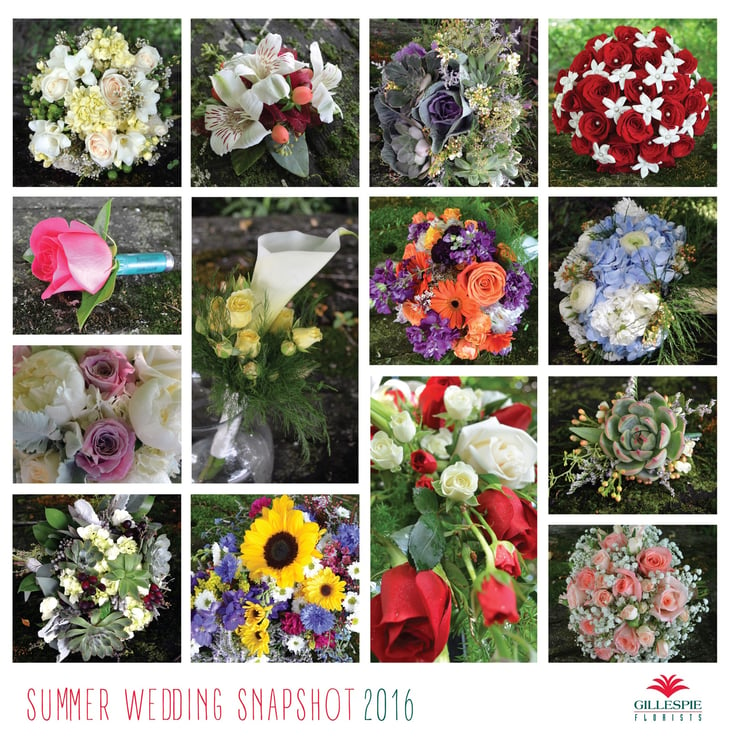 As we begin preparing bouquets for fall weddings our favorite summer styles and colors from Summer 2016 are still fresh on the minds of our floral designers and wedding specialists. This collage is a small portion of many gorgeous weddings they have had the pleasure of helping prepare. Summer brides fashioned their weddings with a plethera of color combinations ranging from bold, bright and beautiful to the softest creamy vintage colors and everything in between. Plump and precious succulents were and are still on high demand while delicate hydrangea, peonies and ranunculous were never far behind. As always, what wedding season is without a decent dose of the classics such as ravishing roses and callas? The happiest flowers on earth, gerbera and sunflower, added festivie flair to rich in color wedding themes.
The summer season can be gentle and rhythmic with colors reflecting warm days at the ocean and long walks on the beach and it can also be stunning, striking and vibrant with festivals, brilliant sunshine and fantastic voyages. Whatever the feeling and theme brides want to reflect on their summer wedding day; our staff stands up to the challenge of any color and flower comibination you dare to dream for your big day.


Find our favorite wedding flower themes and more in our wedding collection!