E
very year on Memorial Day weekend, my Mom and Dad drive to Greenfield, IN to visit the gravesites of my mother's parents and grandparents. My parents decorate the grave sites with permanent botanical flower saddles, designed in the favorite colors and flowers of our deceased relatives. When I was young, my siblings and I would make the journey with our parents. At the time, I didn't understand the significance of the gesture, but I do now...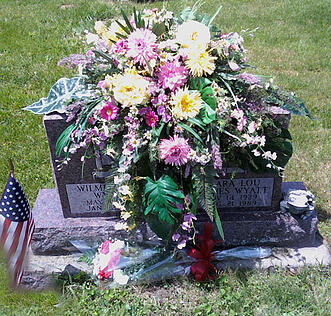 For our family, Memorial Day is a time to gather together to reflect and share wonderful memories of our loved ones who have passed away. We meet at our Aunt and Uncle's house in Greenfield and we travel to the cemetery together. After we place the saddles on the graves, we go back to their house and we have a big cookout. While the children play in the backyard, the adults share stories and count our blessings.

You might think that this would be a sober occasion, but it's not! We laugh until we cry, enjoy the company of others and relive the great memories!

This holiday weekend, get your family together and remember your loved ones... Enjoy your family!

Something you may not know about Memorial day is that it was originally Decoration Day and originated from the American Civil War.