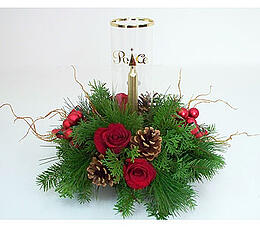 It's Christmas Eve and you just remembered you forgot to get a gift for your favorite Uncle Joe and it's too late to have something shipped. You call your local florist who is crazy busy with Christmas orders for all the other customers who forgot someone and need a last minute delivery. As soon as your florist hears that you want to send flowers out of state, they tell you "Sorry, we won't be able to find anyone to fill your order." Then promptly get off the phone, leaving you to wonder what to do.

As a proud member of the Teleflora network, I can tell you most of the year we have no problem sending orders all over the country, even the world! But a few days out of the year, it can be very difficult. On Christmas Eve, Valentines Day, Mother's Day and July 4th, we find that to be true. Here at Gillespie's we will take your order at no obligation to you and attempt to get your order filled. If we cannot find someone to fill your order then we will cancel the order and call to let you know.

Most florists want to make sure their customers are taken care of first then accept orders from other florists. So, if you find that your local florist can not send flowers out of town for you, call the out of state florist directly! You can do this in 5 easy steps.
Get access to the Internet and do a Google search. In the search field enter the word "florist" and the zip code your recipient lives in.

Make sure to skip over the advertisements. Usually shaded in light pink or yellow. Then pick out a listing and click to go to the website.

Once you are at the website, check out a few things to make sure they are a Real Florist. Click on the "About Us" page and see if there are any pictures of the shop or personal videos. On the same page check the address and phone number to make sure they are actually located near the area you want to send to. If those check out, you've got a local florist!

Now, check out the selection of flowers on the website. Find at least two bouquets you like. It's always best two have a backup in case the florist is out of a certain product.

Call the florist. Place the order. Some florists restrict their website during a busy holiday like Christmas Eve to not except orders. But if you call, they are more likely to accept the order. Also, you will be able to discuss what product they will be sending and making sure on when your delivery will be made. Make sure when you call to mention you are sending to your Uncle, wife, ect. This clears up for the florist that you are NOT another florist but a Real customer!
Is it Christmas Eve and you need flowers delivered in Indianapolis? Click Below!