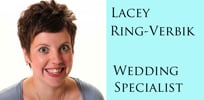 Allow me to introduce you to one of the hottest, trendiest wedding flowers for 2011 – the Anemone. Specifically, the white anemones with rich black centers have been tagged as a bridal favorite.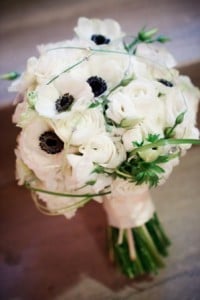 The story behind the anemone flower's name is a sad one. Anemone comes from anemos, the greek word for wind, thus giving Anemone the name "wind flower." It is said in Greek Mythology that the anemone flower sprang up from the blood of Aphrodite's slain lover, Adonis. The name "windflower" signifies that the wind that blows the petal open will also, eventually, blow the dead petals away.
Anemones grow wild throughout Japan, North America and Europe, and vary in their growth patterns. They come in colors of red, blue, white, purple and, infrequently, yellow.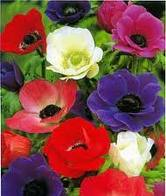 The anemone flower is unquestionably one of the more delicate and beautiful blossoms grown today; however, they are also deeply steeped in myth and touted for their uses. The anemone flower is regarded as a medicinal plant. Although these flowers can be poisonous to both animals and humans, they are thought – in small doses – to aid in a variety of ailments.
Anemones have a wide assortment of symbolism tied to them. They are thought to represent anticipation and unfading love, good luck and protection against evil.
Whether or not the anemone flower really did spring up from the blood of a goddess' slain lover is highly debatable, but the fact that anemones are beautiful leaves little to debate. Add this lovely flower to your wedding and you will be rewarded with its winsome beauty.
Contact our wedding specialist for more information today!