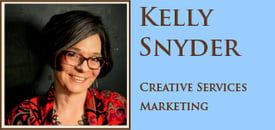 "Love is just a word until someone comes along
and gives it meaning."
- Paulo Coelho
Valentine's Day is quickly approaching and the flowers and gifts options are limitless! What to do? What to choose! I'm narrowing down the options to a few of my favorites which range from petite and sweet to full-on fancy! With our Valentine's Collection, you can express your love on any budget!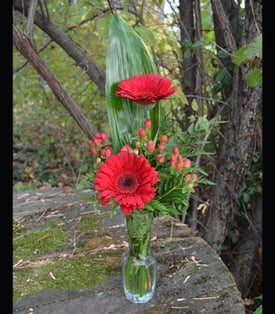 1. I Love You Everyday...Let's Celebrate Just Because It's Valentine's Day!
Gerbera Crush [17V10] - $29.95
We are starting off this quirky list with the happiest flower on earth! Go ahead and look upon gerbera daisies and try not to smile. It's a challenge!

Gerbera Crush is filled with fun brightly colored red gerbera daisies, red hybericum berries, and a swanky aspidistra leaf (also known as the cast-iron plant). Easy on the wallet and just the right size to enjoy it's beauty anywhere in the office or home!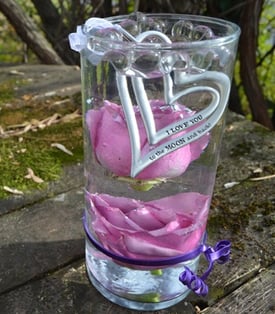 2. I Know You Like Sweet Sayings...
To the Moon and Back [17V06] - $36.95

This fancy cylinder vase wrapped with violet wire is brought to life with two lavender roses suspended in water-storing gel beads. Added bonus, this bouquet includes a lovely keepsake heart etched with a phrase long known and loved in the childrens book Guess How Much I Love You by Sam McBratney. Your love can be perfectly expressed with this sweet bouquet with a nod to those of us who adore the sentiment "I Love You to the Moon and Back".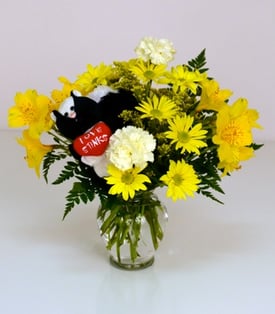 3. You Can't Stand Valentine's Day...I'm Gonna Send You Something

Love Stinks [17V06] - $39.95
Is the love of your life not a big fan of Valentine's Day? Cupid make them cringe? That's reason enough to send something to help them with the cause of Anti-Valentine's Day!
Love Stinks is filled with daisies, carnations, alstroemeria and carnations with an adorable and non-scented plush skunk holding an adorable heart with "Love Stinks" embroidered on it.
(Click here to check out our Budvase version Little Stinker)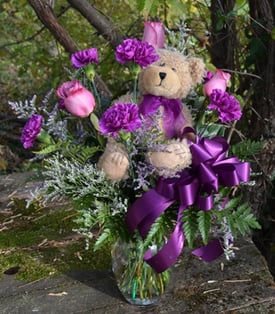 4. This Will Make Your Office Mates Beary Jealous...
Crazy About You [17V02] - $62.95
This is one of those arrangments we have to be careful with because it is SO adorable that one may attempt to hug the entire bouquet before removing the plush bear!

Three lavender-kissed roses, nine Purple Moon series carnations, limonium and a huggable, lovable teddy bear dressed to the nines with a bouquet matching ribbon. I'm a sucker for plush animals and if your special person can't say "no" to them either AND loves getting flowers at the office...this one is the winning pick.
5. Going All Jane Austen for You...
Love Speak [11V01] - $82.95
Did I have you at Jane Austen? Strike a chord on the piano forte?

How else to elicite "a thousand times yes!" than with fragrant stargazer lilies, pink carnations, and the most delicate pink roses you've ever seen? Artfully arranged eucalyptus, airy larkspur and leatherfern combine for a final look fit for a romantic walk-out-of doors with your beloved. Except you don't have to take the walk if it's not on the order of the day; we can bring the view straight to you!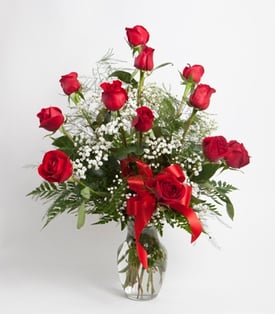 6. Roses are Red, and Many Colors It's True, During Valentine's Day They Are Precious but not as Precious as You...
Vin Rouge [13V07] - $99.95
The rose. Timeless, elegant and representing love and romance through the ages. This still holds true today as roses are still the most popular flower to send celebrate the Valentine's Day.

If your relationship leans towards the classics then Vin Rouge is quite the catch with twelve long stem beauties, babies breath, greenery and lovely ribbon!
(Click here to send a modern version of the classic dozen with Red Passion!)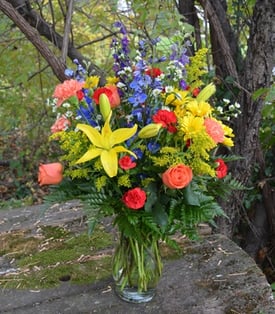 7. My Life Overfloweth in Color and Joy with You in It
Enchantment [17V03] - $139.95
Life is grand when you have love in it. Our Enchantment bouquet is visual expression of what cannot always be articulated with words.
The fine designers at Gillespie Florists start with a large 10" Gala vase and expertly design your bouquet with yellow lilies, bright blue delphinium, purple larkspur, vibrant orange carnations, blazing orange roses, truly yellow daisies, white monte casino, deep red mini carnations, solidago and lush greenery! Wow! That's a mouthful isn't it? Speaking of mouths, this bouquet is a jawdropper. One cannot see the intensity of the colorful florals and not be blown away...in my humble opinion.
There are so many eligible bouquets in our Valentine's Day Collection which almost made the list for this year but better for you to see what I like and then decide what fits your valentine's day needs and check out our offerings for yourself! Come to our store and browse what we have created fresh daily and pick up sweets and gifts for your sweetheart or call us today to make something perfect for your Valentine!