---
The art of mothering is to teach
the art of living to children.
-Elaine Heffner

Mothering is a type of art form, isn't it? A daily, sometimes hourly balance of tasks to accomplish while caring for the ones you love and hoping the best parts of yourself are being reflected in the process. It is a difficult balance yet we strive to keep balance every day. Dads, you do it too, we've got you on our radar! Every day is a chance to celebrate the relationships and love we have in our lives but having a few days a year to dedicate to mothers, fathers, siblings, grandparents, etc; doesn't hurt to send some extra special love and thanks, does it? So for Mother's Day, I am absolutely delighted at what the talented floral designers at Gillespie Florists have artfully crafted for our Mother's Day collection this year. Just like our mothers, these bouquets are works of art and I adore how they reflect the nature of mom in her many different forms.

1. Pastel Treasures
16M05
42.95
A terrific trio of goodness found in vintage bud vases! These small arrangements make a lovely combination centerpiece, placed individually throughout the room! Soft pastel colors in a few of our favorite flowers including gerbera daisies, waxflower, roses, snap dragons, seeded eucalyptus and mini-carnations! If the special lady in your life loves simple and sweet; she will enjoy Pastel Treasures.
Giving this as a gift to represent a certain number of people? We can adjust the number of vases to suit your needs! Call 317.273.1100 or email gillespieflorists@gmail.com for pricing options!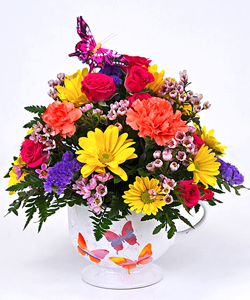 2. Butterfly Dreams
56.95
I'll admit it; I'm a sucker for butterflies, warm colors, and multi-purpose gifts. This particular design combines all these attributes in one for a most adorable bouquet! Not only do we have the beauty of fresh colorful daisies, carnations, waxflower, and alstroemeria but also the long lasting function of a quaint keepsake mug! If mom is an avid warm refreshment fan, she will appreciate this gift within a gift.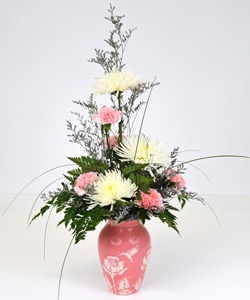 3. Painted Hummingbird
Is it just me or do we associate delicate winged creatures with spring and love. We've covered butterflies; it's now time for our feathered friends, the hummingbirds! This bouquet reminds me of the quick flitting movements of these fairy-like birds. Fuji Mums reflect the needle thin beaks dipping searching for nectar. The fine Bear grass and airy nature of limonium filler and floral design is like catching a glance of the hummingbird before it disappears.
Soft pink hues and demurely painted hummingbird in a keepsake vase complete this ethereal bouquet!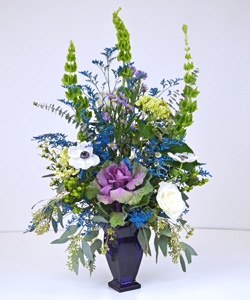 4. Azure Hauteur
Show some love on a large and elegant scale with Azure Hauteur. Tall Bells of Ireland, ornamental kale, the delicate white anemone, green mini hydrangea, green hypericum berry, purple monte casino, tinted blue limonium, spiral eucalyptus and seeded eucalyptus all artfully and tastefully arranged in a pristine blue vase. The classic appeal of this arrangement is perfect for the sophisticated lady in your life.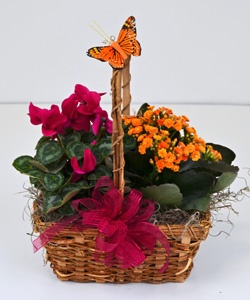 5. Spring Bloomer
16M01
Spring is in full bloom when Mother's Day comes around. Help her celebrate the day and the return of warmer temps with a basket full of fresh annuals for the home or garden! These colorful plants will brighten her day till the frost bites. The seasonal availability of these blooming plants may affect the color and type of plant in thr picture but rest assured, our fine floral designers will use their special design skills to make up a lovely basket of blooms complete with ribbon and butterfly!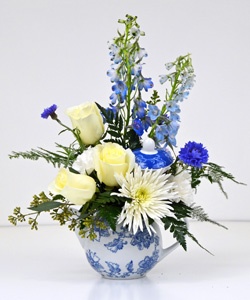 6. Vintage Teapot
16M02
Keepsake gifts and containers are always on trend here at Gillespie Florists! The Vintage Teapot is a prime example and perfect for Mother's Day.
The brilliance of blue delphinium and blue cornflower paired with creamy white roses and spikey white Fuji mums and white carnations are carefully arranged in this keepsake container. A lover of tea and timeless style will enjoy this decorative bouquet.
Find these Mother's Day bouquets and more when you visit our online collection. Want to deliver "Happy Mother's Day!" greetings in person? Stop by our store and choose flowers from our 500 sq ft cooler for a "made especially for you" bouquet or see what our designers have made fresh and ready to go in the front cooler. What better way to express gratitude and love for the important women in your life than with the beauty of flowers which reflects Mom's beauty, inside and out.