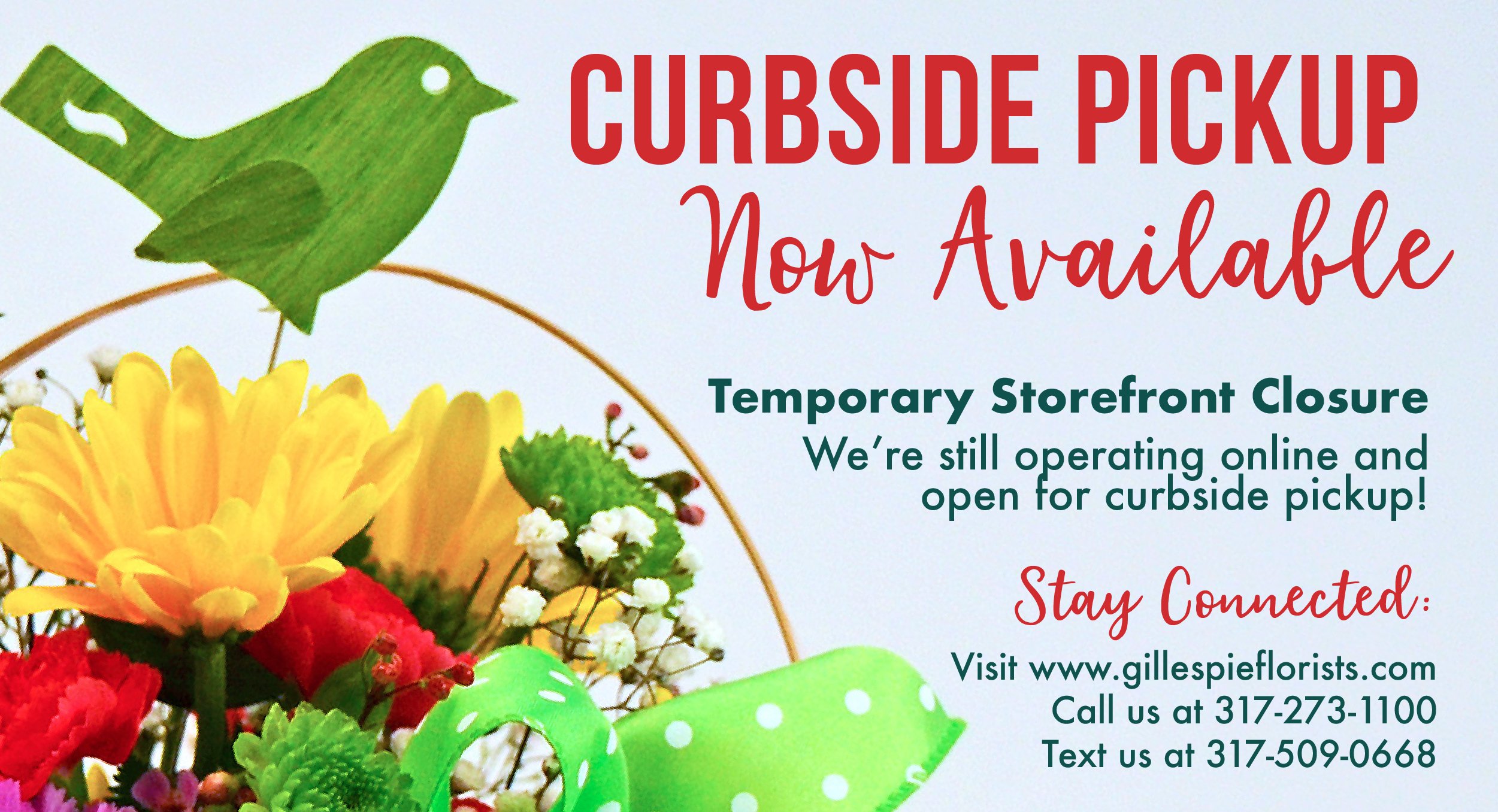 We are offering Curbside Pickup for orders. Here is some helpful information to pick up the order and be on your way home as quickly as possible.
CALL AHEAD
Call ahead at 317.273.1100 and place an order for curbside pickup at our store.
Pay by phone using credit/debit card. Don't forget the card message for your order and we'll make sure it is included with your order!
ALLOW TIME FOR ORDER FULFILLMENT
Please allow at least 30 minutes between the time your order is placed to when it will be ready for pickup. Help us streamline the process by letting us know what time range you will be picking up your order.

PICK-UP
When you come to our store please pull up to the main entrance. Have your order number ready (We'll provide you that information during order placement).
Call 317.273.1100 when you arrive! Our customer service rep will retrieve the order and bring it directly to your vehicle. Please have a space available for us to place your flowers and let us know where they should go! Your order will be wrapped and boxed for transportation.

SPECIAL NOTES
* Please remember to call us when you arrive at the main entrance. Our front doors will be locked so there is no way to enter the building to retrieve your order. We will bring it to you.
* If you do not have a credit/debit card we will accept cash however please notify us IN ADVANCE so we can be prepared with access to change, protective gloves, etc.
* Opt to receive your receipt via email (paperless/touchless). We will not share your information with outside sources.

* Lastly, please be patient. We are all learning as we go and coping during these unprecedented times!
From everyday occasions to the most significant life events, we have been and will continue to be here for you. #FlowersForLife
Be safe and well,
Gillespie Florists
9255 W. 10th St.
Indianapolis, IN 46234
gillespieflorists.com
gillespieflorists@gmail.com
Business Hours:
Monday - Friday 8am - 6pm
Saturday 8am - 6pm
Sunday 11am - 3pm
Stay in touch via social media: