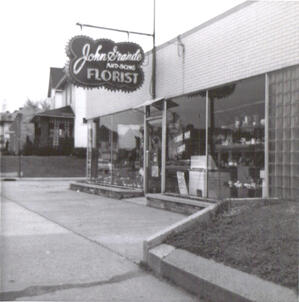 Early Beginnings
Prior to 1895, my (3 times) great Aunt Clara, Uncle Al Grande and family owned andoperated John Grande Greenhouse on Grande Avenue between Michigan and 10th Streets. In 1895, the greenhouse operation was expanded to include a full service florist shop on the same property: John Grande and Sons. In the late 40's, the retail florist business was moved to a house at 2401 W. Washington Street (near George Washington High School). In 1951, John Grande and Sons built a new facility at that same location, where it remained for 27 years. The Gillespie Family, a generation removed from Aunt Clara and Uncle Al, purchased the business in 1960 and changed the name to reflect the current ownership in 1975.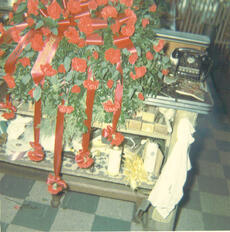 The store front is pictured here facing East towards downtown on Washington Street. The address was 2401 West Washington Street (near George Washington High School) which housed John Grande and Sons until 1978.
This picture of a casket spray was taken in the late 1960's and represents the style of that era. Jim Gillespie, who owned John Grande and Sons at that time, was well known to his customers for this style of design. Notice the carnation bloom attached to the end of each ribbon.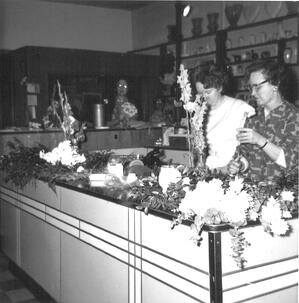 Two designers are pictured working at the front counter. It is interesting to note the decor of the day, which has changed a lot. The traditional style of design has remained largely the same through the years.
Flowers For Life
When the business name changed in 1975, my father developed the idea of "Flowers for Life". This motto articulated the presence of flowers during the important occasions of our lives: birthdays, anniversaries, weddings, new babies, illness and sympathy expressions- all are enhanced with the gift of flowers.
To celebrate the grand opening of the business with the "new" name, a contest was held in which the winner would receive "Flowers for Life". The winning contestant received flowers on the first day of each season (Spring, Summer, Autumn and Winter) for over 30 years. When she passed away, her daughter shared with me how much her mother looked forward to receiving her flowers each season. Gillespie Florists was honored to be a part of her life for many years. We are proud to be a part of your life for years to come.
Get the flowers for your life! Click below to shop now!